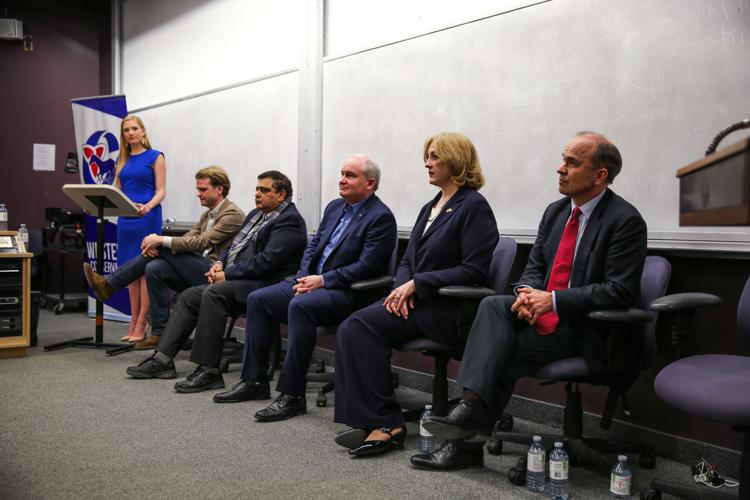 Six leadership candidates of the Conservative Party of Canada were put to the test with a question and answer session that took place at the WesternU Conservatives' 'Youth Renew the Right' event on Thursday evening.
The event was held in a lecture hall in the Arts and Humanities Building, and the goal was to connect and familiarize youth with the leadership candidates of the party. 
In attendance at the event were Lisa Raitt, Chris Alexander, Deepak Obhrai, Erin O'Toole, Rick Peterson and Brad Trost — six out of the fourteen candidates running in the Conservative election.
The event was comprised of questions posed to the candidates by two executive members of the Western Conservatives: Meagan Moulton, vice-president finance and third-year Ivey student, and Sabrina Grand, vice-president membership and third-year global studies student at Huron.
The questions focused on education, healthcare and transportation; jobs, economy and innovation; immigration, defence and foreign affairs; social issues, diversity and party unity.
Lisa Raitt, current MP for Milton, managed to take a personable approach when answering questions during the debate. She even gave a current Western student, Kieran Mathew, a shoutout to his startup when asked how she will serve the interests of the youth.
"I want to re-energize our big blue machine, and I would hire Kieran Mathew and Amplify Solutions to help me understand what we need to do and how we need to talk and engage."
Raitt spoke about the grassroots movements and also spoke about the inclusion of women in the party.
"When I was minister of labour, Air Canada wanted to meet with me and I wouldn't take a meeting with their panel because they didn't have women on their board," she said. "You can meet with my staff but you won't meet with me until you put women on your board; they have two women on their board now. It's not about calling yourself a feminist, it's by living it."
In an interview with the Gazette, Raitt spoke about the way she plans on communicating with the youth demographic.
"In order to communicate with your age group, you have to speak differently. You have to get out of the political speech and get into the honest and authentic," she said.
Erin O'Toole, MP for Durham, was another candidate that received cheerful applause from the audience as he pointed out that he was a year younger than Justin Trudeau and that his platform has an established plan which directly applies to millennials.
In an interview with the Gazette, O'Toole spoke about the objectives of his new policy for youth startups, Operation Entrepreneur.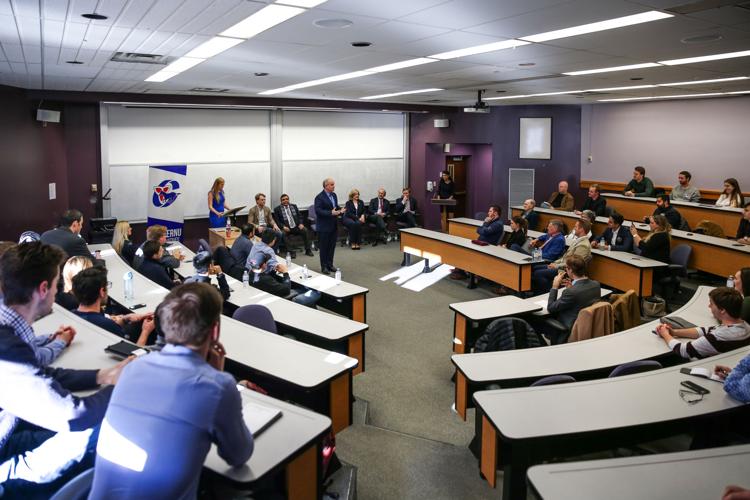 "I'm very excited about it and I want to help this young generation succeed with this kickstarter program and to be there for people who want to try to do their own business and startup," he said.
Rick Peterson was the only "new face" candidate in the running that has not been a MP previously and was in attendance. Peterson believes that his knowledge derived from business and bilingualism to be strong assets. During the debate, Peterson highlighted enacting a zero corporate income tax when asked about how government can support job creation and innovation for youth.  
When the Gazette asked Peterson about his plans to reach out to youth, he responded, "My director of operations is 24 and the head of our campaign in Quebec is 26. We are focusing on growing the parties in the weak areas and we are focusing on issues that are key for youth, and that's jobs. We want to create jobs and opportunities and we want reach out in the best way."
Candidate Deepak Obhrai, MP for Calgary Forest Lawn, was able to engage the audience with his sense of humour, joking that he will steal all the other candidates ideas when he becomes Prime Minister.
"Traditional jobs are not available and we need to come up with innovative jobs," Obhrai said in an interview with the Gazette. "For example, professional association, they should allow people to go across the country."
The event was filled with curious students, some knowledgeable about the candidates and others who came out to learn more about the Conservative Party.
In regards to his attendance, attendee and fourth-year political science student Mark Farfan said, "Professional curiosity. I'm not really familiar with the Conservative Party and I'm not here to see any specific candidate — I just want to take it all in."
Tarret Kennedy, a third-year MOS consumer behaviour student, said he supports the Conservatives and came to the event to hear their viewpoints on what they can do for students.
The two hosts, Moulton and Grand, said they are both happy with the success of the event.
"We wanted to run the event for people who are not only already engaged, but also those who aren't engaged because that's what we need, everybody coming out. The candidates really have youth-focused policies, which is great," said Moulton.  
Following the debate, the audience was invited to mingle with the candidates over pizza.
In order to vote for a Conservative member in the running, you can register for a membership for the Conservative Party on www.conservative.ca. Registration closes March 28, 2017.
With files from Bryn Smith and Kendall O'Donnell.