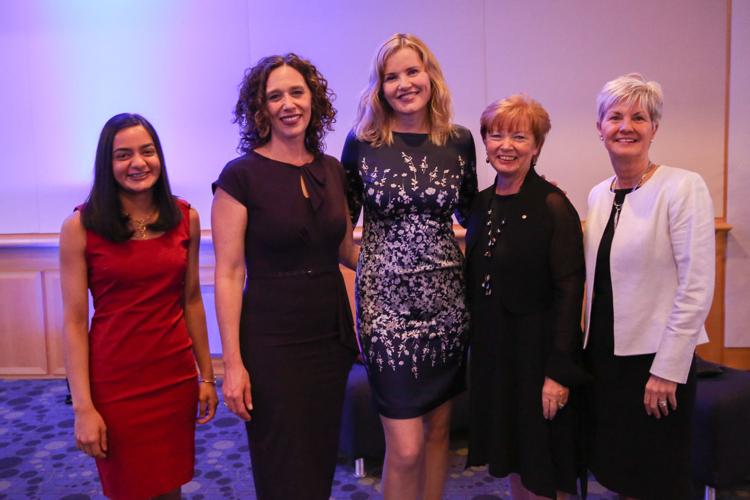 Academy Award winning actress Geena Davis was a keynote speaker at BresciaLEADS Awards gala at the London Convention Centre on April 7. 
"I'm thrilled to be here," Davis said. "I love what Brescia College is doing and this inaugural event seemed like a great thing to be a part of."
The gala celebrated exceptional women from across the country: Carol Stephenson, a prominent businesswoman and former Ivey Business School dean, received the lifetime achievement award; Maya Burhanpurkar received the emerging award; and Tzeporah Berman received the activist award for her environmental work.
The Royal Bank of Canada also received a distinction award for empowering women. 
The gala was the largest event Brescia has ever undertaken, with over 740 people attending, according to Cathy Vitkauskas, vice-principal advancement at Brescia and organizer of the event. 
The award recipients were selected for demonstrating Brescia's values of compassion, wisdom and justice.
Davis created the Geena Davis Institute on Gender in Media in 2007. 
"There's so many professions where entry level is 50/50 and yet at the very next level the pyramid narrows dramatically," Davis said. "We have to get passed that point where women are not being promoted at the same rate and that's going to be discouraging, I'd think, for young women starting out to realize that that happens."
Stephenson also discussed the inequality women often face in the workplace.  
"I really always thought we were missing a lot of potential talent in executive positions," Stephenson said. "For my entire career, I worked on ways we could support, mentor [and] get more women into the business world. So that goes all the way from my career in telecom to Western." 
While reflecting on her notable roles that empowered women, Davis said Themla and Louise stood out as she realized there were very little empowering roles for women. She also received critical acclaim when she played the first female president of the United States in ABC's 2005 drama Commander in Chief. Davis said it has taken far too long for there to be a female president in the United States and she'll be happy when it finally happens. 
"We're a democracy. We shouldn't just have our first one. We should be regularly," Davis said. "When I was doing that show, interviewers would always ask me, 'Do you think we'll see a female president in our lifetime?' And I'd be like 'What century are we talking about? Yes we have to, it's ridiculous.' "