Federal and local leaders gathered at Western to discuss federal government investments being made in post-secondary education on Wednesday morning. 
London North Centre Member of Parliament Peter Fragiskatos began his speech by addressing the results of the presidential elections the night before.
"There is an elephant in the room this morning and what I have to say about what happened last night is that the government of Canada will work with Mr. Trump," Fragiskatos said. "Prime Minister Trudeau did extend his congratulations as other world leaders did. It is a responsibility of any government to reach out and work with leaders of other governments."
Fragiskatos discussed the ways in which the federal Liberal government is making post-secondary education more accessible and affordable.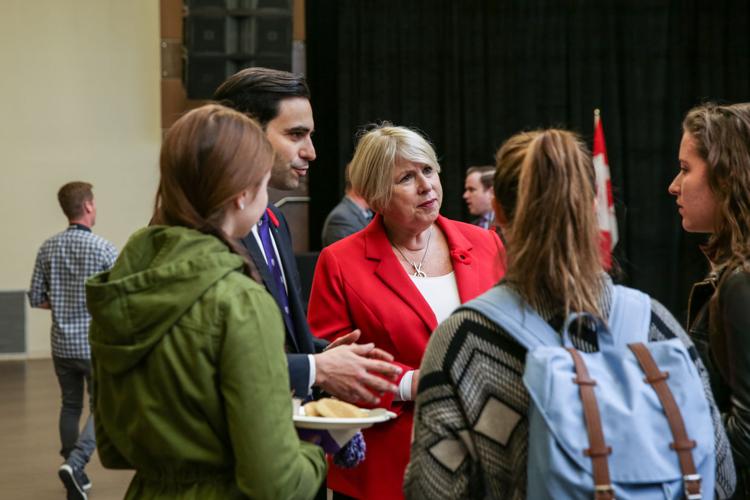 Throughout his speech Fragiskatos highlighted the government's plans. The Canada Student Grant amounts increased by 50 per cent beginning in August. Additionally, the repayment of student loans has been eased as graduates will not have to make repayments until they earn at least $25,000 per year. 
"This change gives flexibility to young graduates. If they finish their studies and transition to work they will not worry about debt burdens that are overwhelming and inhibit their progress as human beings," Fragiskatos said.
Fragiskatos also noted the negative impact debt can have on a student's mental well-being.
As a former professor at King's University College at Western, Fragiskatos is passionate about finding solutions to ease financial burdens faced by students.
"I saw my students struggling everyday as graduates with debt issues," Fragiskatos said in an interview with The Gazette. "They deserve a government that is ready to step up for them, to help them during difficult times."
Ontario MPP Deb Matthews also gave a speech at the event. Matthews thanked Western University Students' Council members and the Ontario Undergraduate Student Alliance for their advocacy on student debt and the financial aid issues. 
"I would not be here talking about this if it had not been for the work of OUSA," Matthews said.
Other speakers at the event included USC president Eddy Avila and vice-president Jamie Cleary, vice-provost academic programs John Doerksen and associate vice-president student experience Jana Luker. 
Following the event, Fragiskatos also met with student faculty presidents at Western to discuss an array of student-related issues.