After a seven hour marathon meeting Thursday night that included hours of speeches from the public, London city council's strategic priorities and policies committee endorsed a full bus rapid transit system (BRT) in a 10-5 vote. 
London's rapid transit saga has been ongoing for the past few years. In November of last year, councillors endorsed a hybrid option which would see light rail transit (LRT) in the northeast of the city and BRT servicing the southwest. A month ago, city bureaucrats changed their minds and proposed a business plan that supported a full BRT system. 
In the Thursday night meeting, councillors Jesse Helmer, Mohamed Salih, Virginia Ridley, Stephen Turner and Jared Zaifman found themselves in the minority as the committee went ahead with its BRT endorsement. 
As the debate period began, Councillor Tanya Park moved a motion that would support the implementation of the proposed business plan, with an amendment that would prefer electric buses. 
Councillor Harold Usher does not believe that London has the population or ridership to sustain a hybrid option #LdnOnt

— Bradley Metlin (@BradAtGazette) May 27, 2016
Mayor Matt Brown supported her motion and noted that a full BRT system could be implemented quicker than a hybrid option. He also argued that London was not yet ready for LRT technology but could be in the future.
"We're going to design a system that is LRT ready," Brown said. 
Notably, when Councillor Bill Armstrong asserted that the public overwhelming supported BRT, the council gallery reacted with baffled looks and shook their heads. Several people were audibly heard saying, "No!"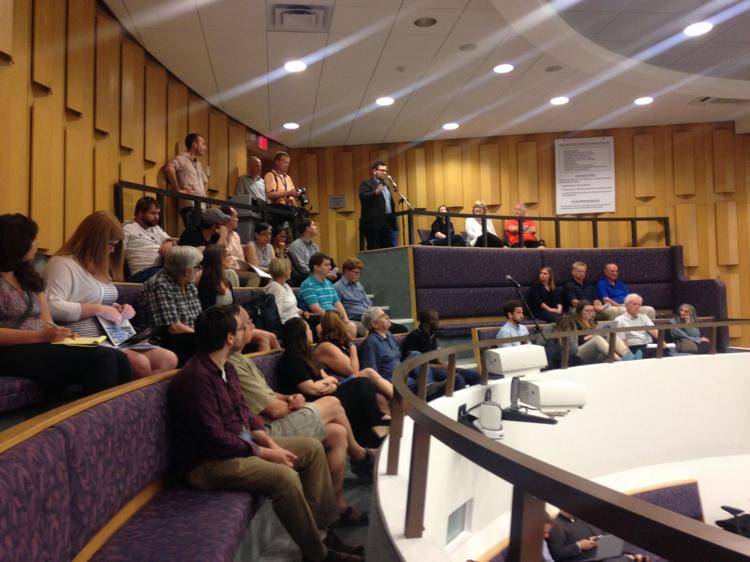 Members of the public spoke for five minutes each for nearly three hours offering their opinions on which rapid transit option would be best for the city. While there was some support for the BRT at the beginning, members of the public began shifting almost en-masse in favour of a hybrid system.
This conversation seems to be boiling down to:
LRT = progressive, forward thinking
BRT = old school, just okay#ldnont

— Bradley Metlin (@BradAtGazette) May 26, 2016
One of the main buzzwords over the public forum was "millennials" after a London Free Press article noted the demographic group, born in the 1980s through to the early 2000s, were much more supportive of LRT as a method of rapid transit. While young speakers generally favoured LRT, opinions from older Londoners were more mixed.
"I'm not a millennial, I'm a senior citizen," said London resident Helen Riorda, who supported a hybrid system and noted that many people her age did as well.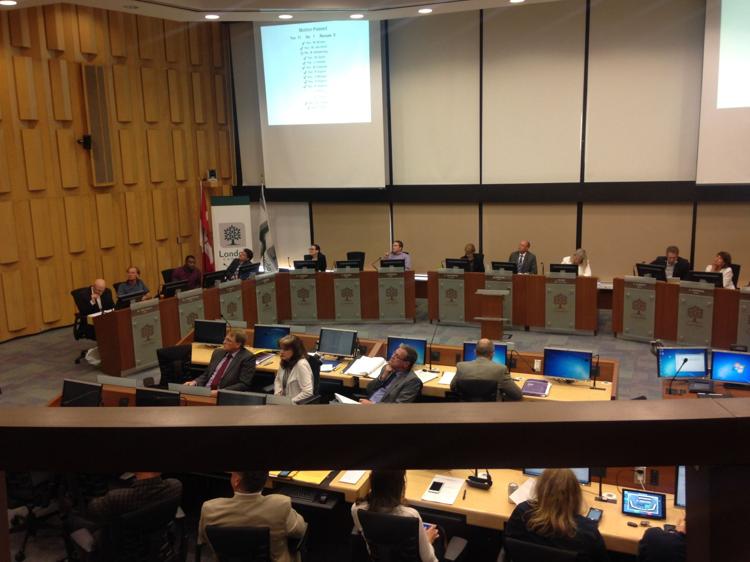 While many seemed to suggest that London had an opportunity to move forward by incorporating LRT, others believed the city could be more innovative with their choices. A few speakers suggested autonomous buses and other self driving vehicles. 
When @AmirFarahi talks, I listen. Smart and visionary young man. #ldnont

— Sheryl Rooth (@sherylwillwrite) May 26, 2016
Amir Farahi, who ran for city council in 2014 as a first-year Western student, suggested that London explore NEXT, an electric modular system that seemed too futuristic to most councillors. 
Jamie Cleary, vice-president elect of the University Students' Council voiced his support for a hybrid system, saying Western students have problems with transit, particularly with commute time. 
While some likely were disappointed by the decision not to explore the hybrid option, Councillor Virginia Ridley believed any rapid transit represented a step forward. 
"Our norm is not transit and we have the opportunity to make that the norm for the next generation." 
The committee's BRT recommendation will go before the full city council on May 31 for final approval.
Correction: This article originally misstated that the BRT had been endorsed by city council. At the time of publication the BRT was endorsed by the council's strategic priorities and policies committee before being put to vote before the full council on May 31.