The London Transit Commission will be rolling new routes serving Western's campus this September to deal with issues of overcrowded buses during the school year. 
The new 102 and 106 routes will become active from September 4. Both routes will stop at Nat. Sci. on one end and downtown London on the other end.
The 102 will operate along Wharncliffe and Western Road and the 106 will operate along Richmond.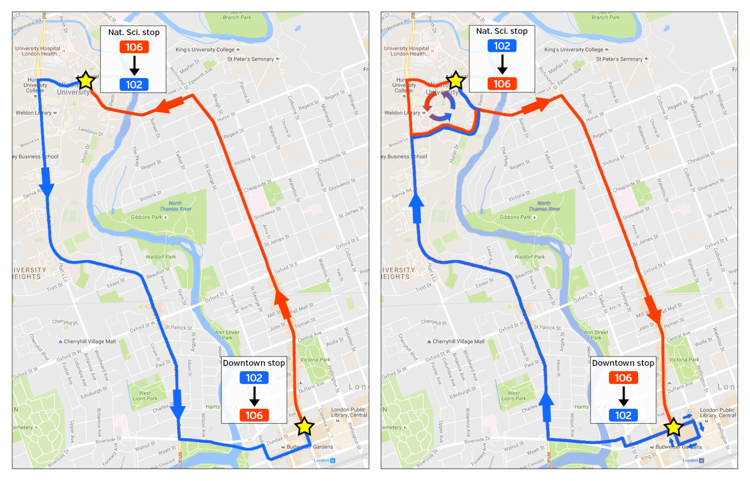 The LTC received numerous comments concerning the overcrowding issues on services such as the southbound 6 and it is expected that the addition of the 102 and 106 will address these issues. The LTC will be using the longer, articulated (60 foot) buses along the new routes.
The routes will operate a 40-minute frequency between 6 a.m. and 8 a.m., 10-minute frequency between 8 a.m. and 11 a.m., 12-minute frequency between 2:30 p.m. and 6:30 p.m., 15-minute frequency between 11 a.m. and 2:30 p.m. and a 40-minute frequency between 6:30 p.m. and 10 p.m.
The new routes will operate exclusively during the fall and winter semesters, and on weekdays only, excluding holidays. Service will be limited during exam periods.
According to a LTC spokesperson, to help accommodate for the addition of these routes, the frequency of route 6 will be decreasing to better match it with the ridership demand. 
"By reducing the frequency on the entire route the area south of Downtown receives the level of service required based on demand and the extra hours have been re-invested into the system to provide a frequent 106 route north of the downtown where an increase in frequency is warranted," the spokesperson said.
For a full list of changes set to take effect on September 4, visit the LTC's 2016 Service Changes.