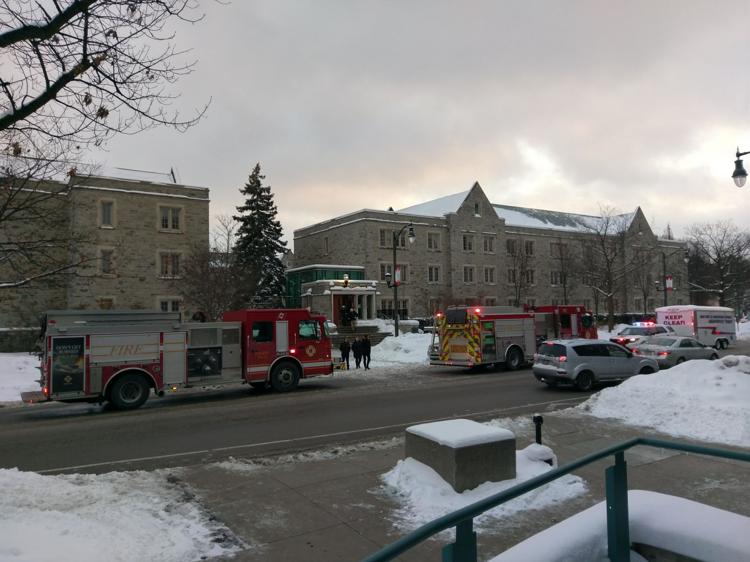 Medway-Sydenham Hall was evacuated today after a strange smell was reported in the afternoon.
The evacuation started around 2:55 p.m. At 5 p.m., Medway Hall was cleared for re-entry, according to an email from the Elgin Hall residence manager, Scott Buttenham. Syndenham Hall was re-opened at 6:45 p.m.
An official from the London Fire Department said that the fumes were due to loose bromine left in a garbage pail; bromine is a chemical with many uses known for its strong odour. He said some emergency responders had irritated eyes and throats, which is a normal reaction to the fumes, and that no one was admitted to hospital after the evacuation.
The London Fire Department found the pail around 6 p.m. and removed it; then are ventilated the building, according to Western University's senior media relations officer, Stephen Ledgley.
Erin Harrington, first-year science student, was among those evacuated from the building. 
"The [cafeteria] area was misty. All of the lunch ladies were coughing. People said they could smell it in their rooms in the basement through the vents," said Harrington.
Hannah Cho, first-year medical sciences student, said many of her friends reported that it smelled a lot like chlorine.
Another first-year student, Bradley Powell, was in the cafeteria as well. He saw building staff coming quickly out of the kitchen, covering their mouths and noses with their shirts; he said he saw one of of the staff pulling the alarm.
He said his friends also smelled chlorine, and his nose started to burn from the odour.
The building's dining hall will remain closed until 11:30 a.m. tomorrow; students can eat at Elgin Hall or Delaware Hall until then.