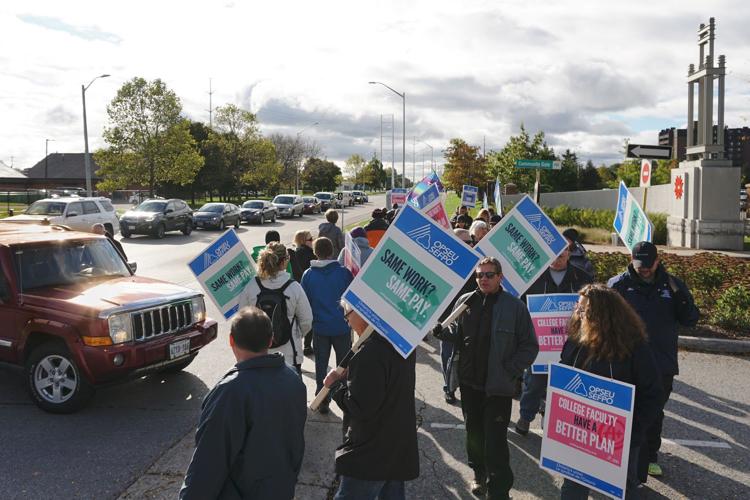 With Fanshawe College faculty on strike and teaching stopped indefinitely, some Western students are caught in the middle.
A final offer forwarded by the Ontario Public Service Employees Union to the College Employer Council was refused, and Fanshawe's faculty have joined 12,000 instructors at 24 colleges across the province in protest.
Fanshawe strike picket line — Oct. 16, 2017
The OPSEU asked for equal numbers of full-time and contract faculty, a nine per cent pay increase over four years and freedom for instructors to choose their own curriculum.
The CEC claimed the union asks would increase costs by $1 billion over three years.
The strike and Western University
Two programs at Western University are specifically affected the strike: the Western-Fanshawe collaborative nursing program and the Faculty of Information and Media Studies' media, theory and production program. Both degree-diploma programs require students to spend time at both Western and Fanshawe.
The strike puts collaborative nursing students at Fanshawe this year at a disadvantage. As Western students continue to move through the curriculum, Fanshawe students are forced to fall behind. Students in the program complete two years at Fanshawe with a few Western courses before fully joining Western's nursing students in the final two years. Western and Fanshawe students study the same material and take the same exams.
For now, students can study on their own and work on assignments, but they can't contact teachers for feedback or help.
"It's pretty devastating," said Emily Sturtridge, a second-year collaborative nursing student. "In such a difficult program that's so fast-paced; it's incredibly difficult to learn without professors guiding us."
Sturtridge is still attending her pathology class at Western, but her tutorial at Fanshawe is cancelled.
The MTP Western-Fanshawe program is also hamstrung by class closures.
A three-year degree at Western and a two-year diploma at Fanshawe are taken simultaneously, and all students in the program are currently without much of their course-load. Ryley Alp, a fourth-year student in the program, said the programs' students are often searching for internships at this time of year, and instructors are the usual intermediary between students and industry professionals.
Right now, four of her courses are cancelled at Fanshawe while one is ongoing at Western.
Western's program is in touch with Fanshawe to coordinate possible accommodation for affected students, according to Susan Knabe, an associate dean of the Faculty of Information and Media Studies. She said she was worried about the possibility that delayed Fanshawe exams may conflict with students' future Western assignments — however, she said Western may offer special accommodation.
The past and future of Ontario college strikes 
No indication from either party has been given as to how long they are willing to maintain the class closures. A CEC spokesperson said there is no immediate sign of reconvention with the OPSEU.
The former Ontario premier had to intervene to stop the last 2006 strike, but a government spokesperson recently said the government had no such plans yet.   
Until a resolution is reached, all 43,000 of Fanshawe's students are stuck outside the picket lines. And the OPSEU said striking college employees have the full support of their $72-million strike-fund. Ontario college faculty have struck before in 1984, 1989 and 2006. The latter two lasted 20 days each. 
"The students are the ones who are going to be paying the brunt of it and losing their class time," said Morganna Sampson, the Fanshawe Student Union president. "Students are paying for their education, and the government is subsidizing that education. It's a huge service we are losing."
A petition calling for a partial tuition refund for affected students in Ontario has already attracted 48,500 signatures. Sampson said that a partial refund is not likely but is fair to students.
"We're missing out on essential skills we're going to need next year in the hospital," said Sturtridge. "We're missing out on information that we're paying for."