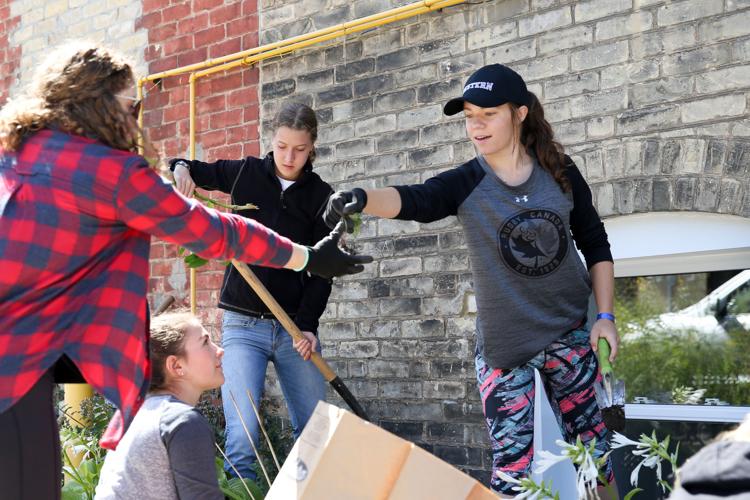 Over 2,500 students left the Western University bubble today to participate in the first-ever Orientation Serves.
Orientation Serves capped off O-Week, letting first-year students learn about the London community through a day of hands-on experiences at local non-profit organizations. O-Serves replaced Shinerama this year after student leaders raised concerns that Shinerama's door-to-door soliciting may have made some participants uncomfortable.
With 30 different organizations participating, students took part in volunteer activities ranging from car washes to community cleanup. 
"I think often our students don't always feel like they are part of the London community, and I feel that this is a great start for them," said Mac McIntosh, University Students' Council student programs officer.
Western students will still support the Shinerama fundraiser to a degree. Seven of the car wash venues took optional donations with proceeds going to the Shinerama foundation, according to USC charity orientation coordinator Richelle Aikins.
Life*Spin, a community economic development organization, was one of the many places students served Saturday. Students helped harvest the organization's garden and clean its store, a "free store" that distributes donations of new or clean, used clothing, household items, toys, sporting equipment, books, tools and more to relieve poverty.
"I love O-Serves so far, and I think it is important because we're helping give back to the community which we now live in," said Hilary Pomajba, a first-year kinesiology student, while volunteering at Life*Spin.  
Local non-profit organizations were also happy to receive Western students' support.
Great to see @WesternU (Harvard of Canada) students cleaning up Dundas Street in Old East today.

— Pumpkin Spice Haver (@CedricRichards) September 9, 2017
"With students helping, it takes a lot of load off us so that we can help our clients further," says Amanda Kerrouch, volunteer and financial literacy project coordinator at Life*Spin.
Kerrouch says that she hopes students will gain a better sense of community through their volunteering experience. For some, the O-Serves experience is already leaving a mark. 
Thank you to the @WesternU volunteers who helped us preparing garden beds at the Westview #CommunityGarden today! #GrowCookLearn #lndont pic.twitter.com/2cDcqvMV1e

— LCRC (@LondonCRC) September 9, 2017
"For me, it helps me to connect with the city and really be part of the community," said Parker VanBelleghem, first-year integrated sciences student. 
Students who enjoyed O-Serves can look out for other opportunities to get involved in the community during the school year. Aikins said there's an orientation month time-raising event where students can sign up for and participate in similar initiatives in smaller groups. 
"This is a really big opportunity for them to expand their horizons as people for different causes across London," said McIntosh.