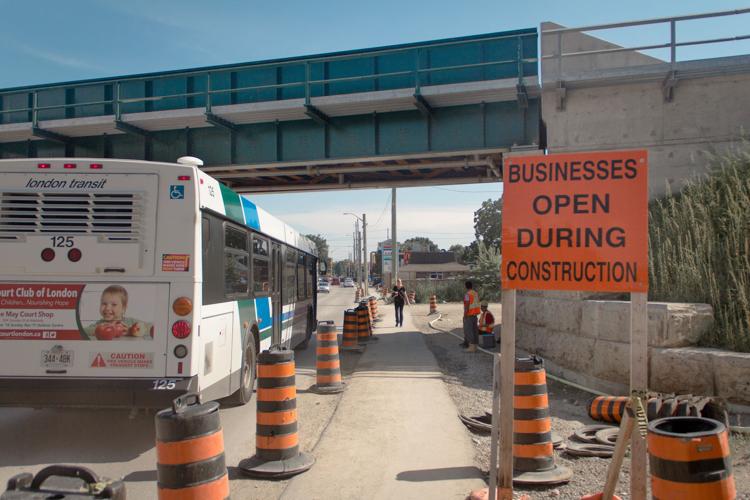 Several road closures are taking place within and surrounding Western's campus in the upcoming weeks due to O-Week foot traffic and construction work.
Construction on Western Road and Platt's Lane, among other areas, is part of London's Western/Wharncliffe road-widening project. The project involves construction work spanning from Platt's Lane to Wharncliffe Road North, affecting many students living in these areas.
Third-year kinesiology student Kate Brady has to walk 10 minutes to the nearest bus stop because the buses are not serving the stop closest to her house.
"We can't get on the bus unless it's on the other side on Oxford, so it takes a really long time to get places," she said. "It's really hard to drive down there as well with all the construction and the traffic."
"I can't even get on a bus because if I'm gonna walk to the bus stop, I might as well walk to campus, because the first [functioning] stop is right outside [London Hall]," added Stephanie Giovinazzo, third-year applied math student. "I think it's really unfair to students because we're paying for our bus pass, and we can't even use it to get to campus."
Similarly, first-year engineering student Lara Abu Zaineh said the nearest operational bus stop is a 10 to 15 minute walk from her house. She said the walk might make her feel unsafe after her evening classes.
"I have 9 o'clock classes, and I have labs at night, so it affects me a lot actually because at night it's a bit more intimidating to go alone, especially as a girl," she said. "It sucks because this is my first year. I was so excited, and this is such a bummer... I would just hope that it passes quickly and safely."
Many students are still in the process of moving into these areas, according to Angela Pecyna, a second-year kinesiology student. "It's just stressful … having to get around all that with a moving van," she said.
"I live right on Wharncliffe so I actually lost my whole front lawn and a tree that was right on my front lawn, so I've been having to walk through gravel to get into campus," she added. "It's gonna help traffic in the end. It's just really inconvenient that it's happening right at the beginning of school."
Here are the main areas affected by the construction work and O-Week:
University Drive bridge
From Sept. 3–5 and Sept. 8, University Drive bridge is closed to car traffic from 6 p.m. onwards to ensure pedestrian safety during O-Week events. Pedestrians and cyclists can still use the bridge. During closures, bus lines 6, 13 and 106 will take alternative routes.
Western Road
Western Road between Platt's Lane and Oxford Street is undergoing construction until Nov. 30. Traffic will remain active but with anticipated delays.
Bus routes 2 and 102 will not serve any stops between Oxford Street and south of Philip Aziz Avenue but will be operating north and south of Western/Wharncliffe Road. There will be delays along these bus routes due to increased traffic and increased passenger volumes at Wharncliffe and Oxford stops.
Platt's Lane
The intersection at Platt's Lane and Western Road will be closed for construction purposes from Sept. 4–7. Pedestrians can use the west sidewalk to travel north up Platt's Lane during the construction and can cross Western Road at the entrance to Althouse College. Affected bus lines 9 and 33 will take detoured routes.
Huron Drive
On Sept. 7 and 8, Huron Drive between Lambton Drive and the Western Student Recreation Centre will be closed from 8 p.m. to 1 a.m.
Students can stay up-to-date on route information through London Transit's InfoWeb tool and view road closures at the Renew London website.