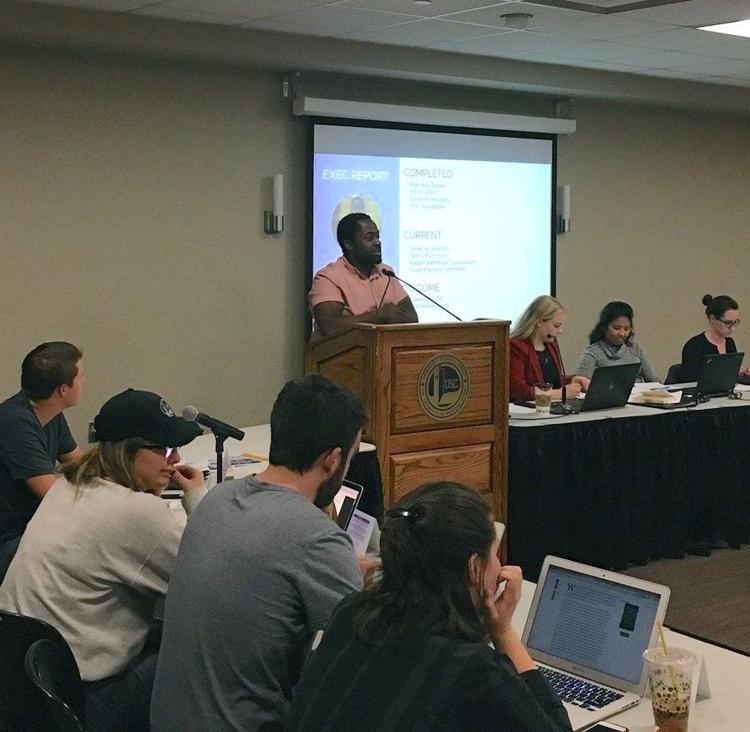 The cost of student bus passes, upcoming policy papers and this year's Homecoming saga dominated Wednesday's University Students' Council meeting.
Bus pass efficacy
Despite much debate as to which sub-council body should conduct the investigation, most councillors spoke in favour of a motion to research how useful and cost-efficient the student bus pass is.
Every full-time student at Western University pays $227.88 per year for the pass, which many councillors said amounts to just shy of $7 million annually. Students cannot opt out of the fee.
Amongst council debate over the supposed lack of councillors to conduct the project, social science councillor Jared Forman said that USC efforts are better spent elsewhere.
"The bus pass is a very popular policy; a lot of people already use it," he said. 
The motion, put forward by social science councillor Keaton Olsen, stated that the current amount students pay is equivalent to 119 normal trips on the London transit system.
Olsen said that he noticed bus passes at many other universities were cheaper for students than Western's. 
"We're trying to build an information base so that, if the issue comes back to be renegotiated, we'll have years of understanding behind us," he said. 
The USC signed a contract this summer to continue the bus pass as is until 2021. Tobi Solebo, USC president, said that, since the pass' inception, the rates have been essentially the same, and that the passes are usually negotiated annually. He also added that students at Western pay up to $700 less than London residents do for their bus-pass.  
Councillor Alessia Zonta claimed in debate that a more pertinent issue to consider is that part-time students cannot opt-in to the bus-pass.
Solebo said it would be "wonderful," but explained that many part-time students take very few classes, often remotely, so they wouldn't use it. 
As for any existing data, with the recent combination of Western ONECards and bus passes, the London Transit Commission will make the most recent usage data available at the end of this year. 
Homecoming and policy papers
On this year's Homecoming and fake Homecoming saga, Solebo said the administration's stance that "HOCO isn't for students" didn't work this year. 
He said that the USC is already in talks about next year's proceedings, given how "political" things were this year. The USC is negotiating with the university, as well as London stakeholders and citizens, with the hope of meeting the USC's official stance that HOCO should be reinstated to its original September date. 
"I think there is interest from everyone in finding something that's a little better," he said. 
Negotiations are also different from previous USC efforts in that they are beginning much earlier. 
The USC also approved a proposal commissioning three policy papers on the affordability of school, student employment and equity and diversity. 
The affordability paper will centre on the message that all eligible students in Ontario should be able to afford post-secondary education. 
Student employment will assist students, who, the proposal states, often attend university with the goal of employment. 
The equity and diversity paper will address concerns expressed to the USC by marginalized groups at the "Let's Talk Racism" event held by the USC and the Organizing Equality Student Coalition this year.