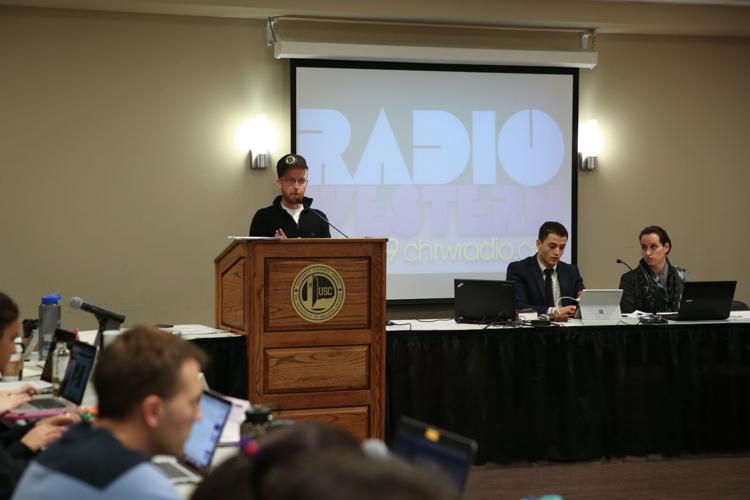 CHRW/Radio Western's funding will decided in a referendum put forward to students at the 2018 USC elections, according to a motion passed by council at Wednesday night's meeting. 
CHRW's finances are left up to students at large after a long debate where councillors leaned towards reducing undergraduate funding towards the station. 
The Radio Western motion, which passed with 73 per cent in favour, will bring a referendum to students at large with a decision to reduce CHRW student funding to an amount between $10 and $11.50. An approximately 15-25 per cent cut as the current fee is $13.15. 
As part of the motion, the USC secretary-treasurer and the governance and finance committee have been tasked to determine the specific dollar value by Nov. 2017. Councillors, including science representative Jack Whelan argued that council should give the relevant parties a range so a more informed decision on the cut can be made. 

Council originally was to debate on three options to move the CHRW motion forward: to reduce student fee funding for CHRW, to put a referendum to students to remove the CHRW fee entirely or to remain with the current CHRW fees. 
Tim Glasgow, CHRW station manager, and Andrew Barton, CHRW's program director, ran a presentation before council explaining how new management at the radio station is leading to changes. However, they couldn't meet the 25 per cent student funding reduction as council had asked them to do last year. 
During the meeting, there was a general feeling of disappointment among council members regarding CHRW not bringing forward proposals and alternative funding models as they were asked to. Many councillors expressed frustration with the same results from CHRW year after year.  
After much initial discussion amongst council, there was agreement that CHRW did provide value to students at Western and shouldn't be cut entirely. However, USC president Eddy Avila asked whether CHRW has made any internal goals or a tactical plan to decrease their reliance on student funding.
Glasgow said there hasn't been any goal setting in terms of gaining grants or advertising revenue yet. 
King's president Nate Little echoed council's sentiments as he worried about the lack of progress in terms of CHRW failing to design an alternative funding model at the council's request since last year's meeting.
Nate Little suggests to put money towards training on how to get grants, on how to fundraise while cutting budget #westernu #uwopoli

— Grace (@grace_kto) January 26, 2017
Courtney Hardy, vice-chair of student senators, proposed an amendment to the initial motion, which was further amended by science councilor Jack Whelan, resulting in the final motion that was passed.
Eddy Avila is speaking in favour of Courtney's amendment to motion #westernu #uwopoli

— Grace (@grace_kto) January 26, 2017
Jack Whelan would like to amend percentage range to monetary range of reducing to $10 - $11.50 in student fees from $13.15 #uwopoli

— Grace (@grace_kto) January 26, 2017
In the mean time, councillors expect CHRW's management to make sufficient changes and engage more students so they can fare well when then referendum comes around.