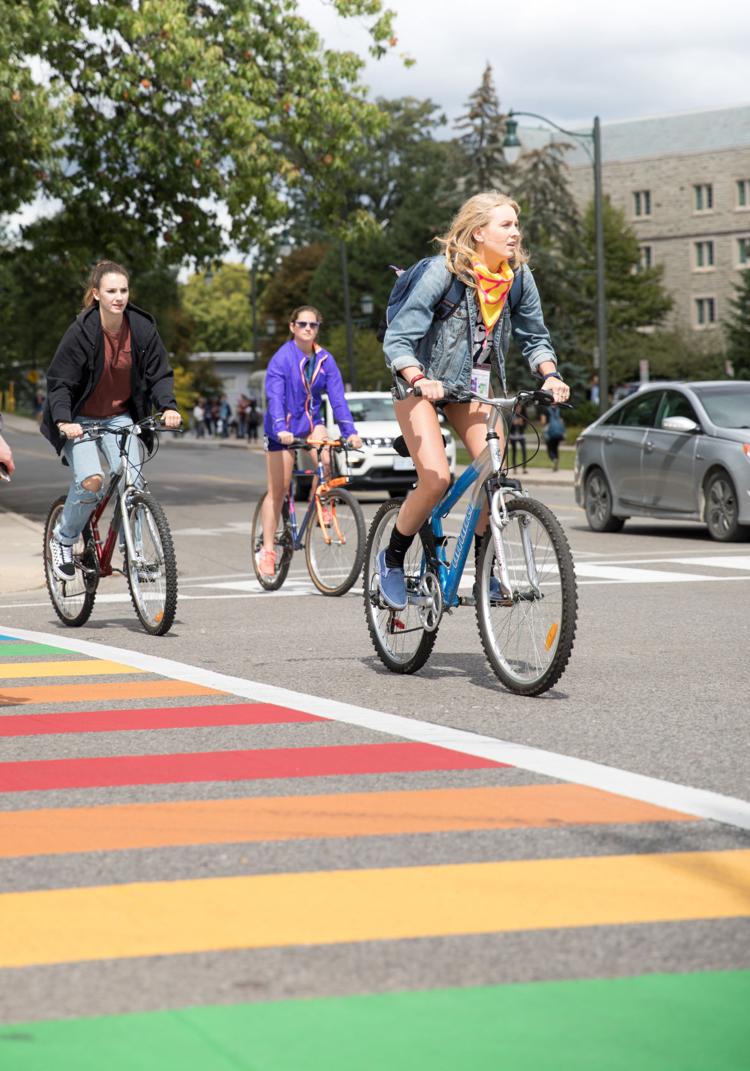 A Huron professor is calling for better bike safety and accessibility on campus after he collided with a car on Tuesday Sept. 5.
Assistant professor of history at Huron University College, Thomas Peace, was riding in the bike lane through a green light at the University Drive and Perth Drive intersection when two cars turned left and cut off his path. He swerved to avoid the first car, he lost control while braking to avoid the second and was thrown from his bike, falling onto the car. 
Peace sustained only minor injuries but damaged his bike and clothing.
"If the car had been going faster, or if I hadn't seen him, I would've been hit by him … and that's pretty scary," he said.
Peace acknowledged he was "pretty banged up" after the experience but often faces difficult bike rides through campus, saying that a near-miss with a car occurs on a bi-weekly to monthly basis. After his collision, he sent a letter to Western University, the city, London Police Service, CBC London and the London Free Press, calling for more bike- and pedestrian-friendly infrastructure.
Marco Prado, a Schulich School of Medicine and Dentistry professor who cycles to work at Western, agrees that campus and city bikers often face dangerous circumstances. He said he has "no doubt" that more people would bike on campus if cycling infrastructure improved.
Both Prado and Peace raised the issue of the University Drive bridge over which both men frequently commute. The bike lanes on either side of the road dovetail onto the narrow bridge, leaving no room for traffic between them. As such, passing cyclists on the bridge is prohibited.
Despite this, Peace said he sees drivers squeeze past cyclists almost daily. 
"The bridge is like a nightmare," Peace said. "It's pretty terrifying as a cyclist on the bridge to hear someone speeding up behind you."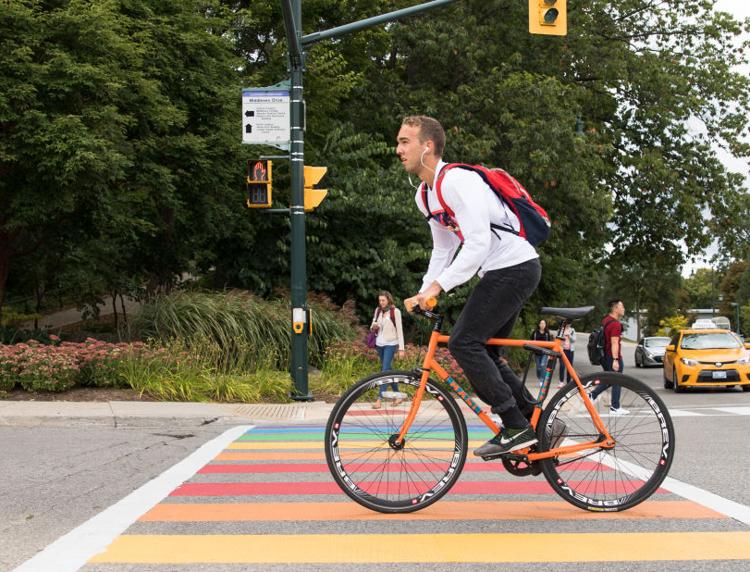 Both faculty members also cited intersections throughout their commutes with traffic lights relying on sensors that don't register bikes, meaning that a biker must dismount and use the crosswalk. Examples of these lights on campus are at Western Road and Elgin Road and in the city at Victoria Street and Richmond Street.
In the past, cyclists have also pushed for more protected bike storage and bike lanes on campus. 
"Vehicle collisions with and without bikes are more common in the fall," said Keith Marnoch, Western's director of media and community relations. He argued that people who are unfamiliar with the campus and its infrastructure cause more accidents. Over the last year, Campus Police recorded four bike collisions, although others may have gone unreported. 
Western's 2015 Campus Master Plan asserts that the campus is "generally safe" for bikers but admits that its cycling network is incomplete. For example, the plan outlines the benefits of adding bike lanes to Western Road.
Marnoch added that the administration also receives pressure to amend infrastructure for cars, such as by increasing parking space on campus, and that the pros and cons of bike and car projects must be carefully considered.
Outside of Western, London's city council is aware of and constantly working on biking infrastructure, according to Ward 6 councillor Phil Squire. However, he said they face budgetary difficulties and resistance from local land owners.
"This council really supports the issue," he said. "We have constant bike lane work going on," he said. "It's not quick enough, but I've never seen a bike project turned down."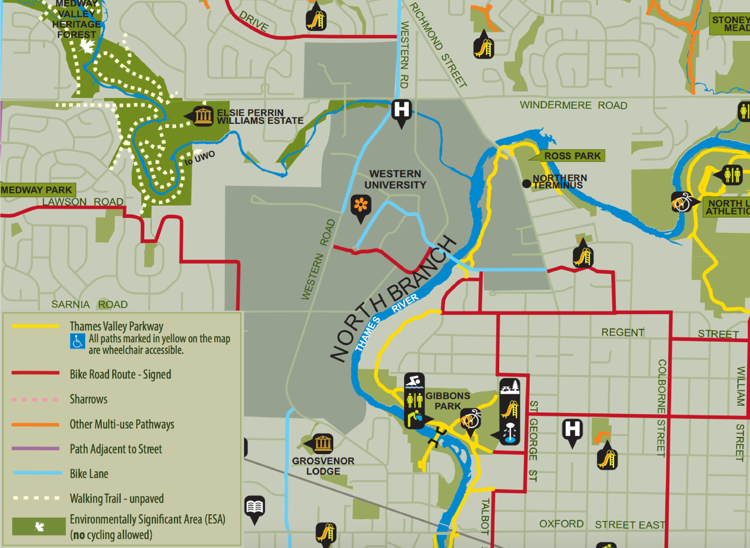 The city has recently added bike lanes on Cheapside Street between Adelaide Street and Highbury Avenue and from the south of Oxford Street to Colborne Street. Council also has an advisory committee for consultation on the issue.
Squire emphasized the importance of the Thames Valley Parkway, a biking and walking pathway entering from the city into campus's southern and eastern ends. Following a federal grant, the city plans to extend it.
Prado claimed the TVP was "good but not well planned," and argued it was difficult for cyclists to share the pathways with pedestrians. 
"If you have more people who bike, you have better health, you have less emission of pollutants and you are decreasing the environmental impact of students," said Prado. "There should be incentives to bike."
Correction (Sept. 10, 9 p.m.): a previous version of this article incorrectly used the verb "breaking" to refer to a slowing vehicle. The correct verb is braking.