Monday morning saw the grand opening of the Western's Wellness Education Centre in the basement of the UCC to celebrate receiving a substantial donation of $1 million from the Fairmount Foundation.
The inauguration was highlighted by Western President Amit Chakma, associate vice-president student experience Jana Luker and founder of Fairmount Foundation, Heidi Balsillie.
The WEC is supposed to be a one-stop shop for students looking for mental health and wellness programming, nutrition information and advice and sexual violence prevention education and survivors' support.
"The wellness education centre really removes the guesswork involved in deciding whether a service is the right fit or not," Chakma said. "And that's a huge help to students who might find the number of services available overwhelming and confusing."
It also serves as a bookable space for students interested in holding their own wellness group activities and will be open 24 hours.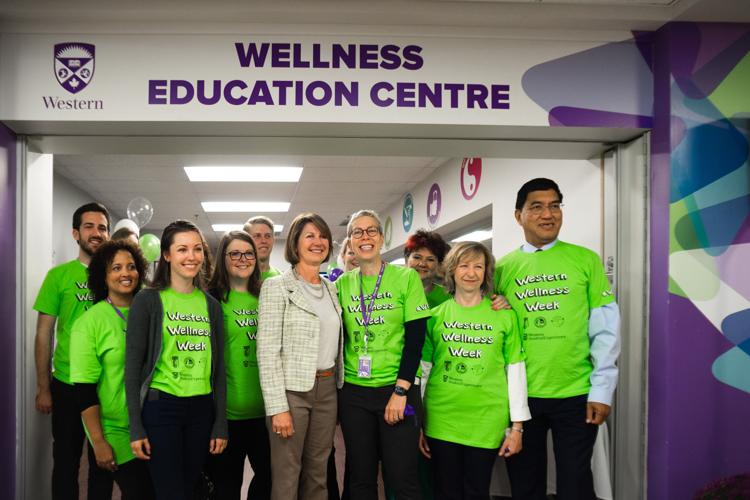 The WEC is overseen by Wellness coordinator Melanie-Ann Atkins and is staffed by 15 extensively trained students, staff members and volunteers. So far, more than 500 students have visited the centre since it opened doors in January 2016.
The development of the project was the result of a collaborative effort involving the student experience portfolio, Student Health Services, the University Students' Council and the Society of Graduate Students.
Balsillie, a former Western graduate, said that it felt only natural donating money to the WEC. Balsillie said she wanted to support an initiative that would impact the lives of students directly in a way that affects not only their academic situation but also their personal situations.
"The Wellness Education Centre, I believe, will become a hub for students looking for systems of support and I know that lots of people have talked about all of the different ways it's already helping students," Balsillie said.
"I know that emotional support is a big one, but I think also time management, financial support, and tutoring are also important."
In the past, Western's reputation for providing quick and reliable services for those suffering from mental health issues has been shaky. Some students have reported waiting months just for an appointment with a psychiatrist. The WEC was established to combat these issues and to offer students a much more comprehensive support network.
The WEC is located at room 76 in the lower level of the UCC and is open from 10 a.m. to 6 p.m., Monday through Friday.
For more information, students can visit se.uwo.ca/wec.html