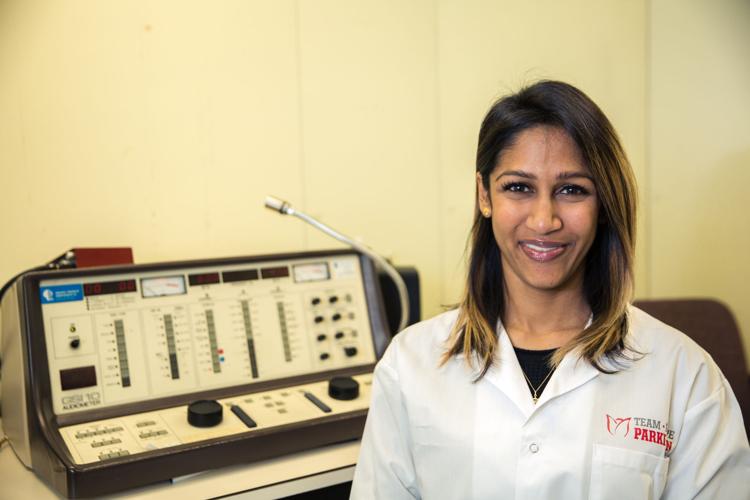 Western University student, Anita Abeyesekera, has started her research on Parkinson's disease after receiving the Porridge for Parkinson's 2017 Graduate Student Award.
Abeyesekera was ranked second in the annual competition for Graduate Student Awards run by Parkinson Society Canada over the summer. She received $40,000 in funding over the period of two years for her research project on low speech intensity in patients with PD.
"People with Parkinson's disease frequently present with what's called 'hypophonia,' [which] is a reduced loudness," says Abeyesekera. "They present with abnormal loudness perception; they tend to overestimate how loud their voice or their speech is."
Abeyesekera explains that hypophonia or reduced speech intensity may result from the abnormal integration of sensory information for speech production in patients with PD.
"I'm trying to understand what may be causing this low speech intensity," says Abeyesekera. "I'm using methods that distort the auditory feedback signal while people are speaking so that I can better understand how sensory processing contributes to the low speech intensity."
Abeyesekera became interested in this project when she had the chance to interact with patients with PD in a clinical setting. That's when she realized just how much these speech disorders were affecting patients' lives.
"Just chatting with these patients, you could see that they were avoiding speaking to people," says Abeyesekera. "They started to lack that social interaction with even their spouses and friends and other family members."
The award was funded by Porridge for Parkinson's, an organization that holds an annual breakfast fundraiser for PD research projects adjudicated by Parkinson Society Canada. This year, the event took place on Nov. 12, where Abeyesekera was able to meet her donors.
"They have a silent auction and celebrity chefs that attend," says Abeyesekera. "With my particular award, there were two couples who had donated the funds ... It was a really nice opportunity to be able to thank them in person and to get to know each other."
Abeyesekera earned her bachelor's degree in psychology at York University, followed by a master's degree in psychology at the University of Waterloo. She is currently completing her fifth and final year of the combined clinical masters in speech language pathology and the doctorate program in speech and language science at Western. She plans on remaining in academia after her graduate studies.
"Parkinson's disease is one of those chronic, degenerative diseases that affect so many hundreds of thousands of people, and the numbers are rising so that's definitely a concern for our society as a whole," says Abeyesekera. "It's definitely something I plan to continue with."