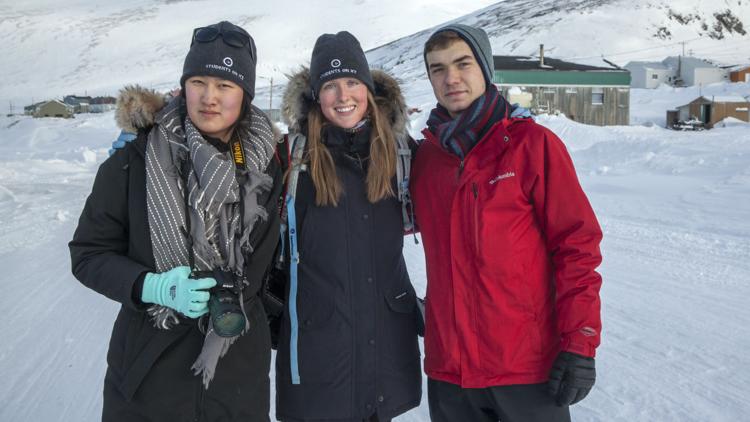 Gabrielle Foss won't slow down. She's a second-year Health Sciences student, co-founder of a non-profit organization and now — with help from her dad — the distributor of a documentary highlighting how photography has helped youth in an Inuit community.
Northern Lights
The film follows Foss, fellow Western student Patrick Hickey and McGill student Eva Wu last February during a week-long trip to Kangiqsujuaq in northern Quebec. There, the group ran workshops for teens that paired mental wellness education with photography to help them address being among a demographic with suicide rates 11 times the national average and among the highest in the world.
Photos taken by Kangiqsujuaq youths
"We called it Northern Lights because mental illnesses like depression can feel like darkness, and what we want to do with this program is bring some light into the lives of students who live in the North," Gabrielle said.
Foss' father, former photojournalist Eric Foss, shot and edited the 16-minute documentary, which includes both English and Inuktitut versions.
Return to the North
The group behind Northern Lights developed into North in Focus, the non-profit group made up of Gabrielle, Hickey, Wu and recently Mount Alison University student, Ashley Cummings.
Last time, Northern Lights was partly funded by Western through grants from the Social Science Student Council and Faculty of Health Sciences. This October, thanks to a grant from Newfoundland and Labrador's Nunatsiavut government, North in Focus is heading to Nain, the northernmost Inuit settlement on Labrador.
"We want to focus the workshop on the students' ability to share their emotions and be able to respond to other people when they express their emotions," Gabrielle said, adding the group will focus on the theme of emotional competency in Nain. 
In addition to photography, Gabrielle and her colleagues will also be incorporating more sports and traditional Inuit games as workshop exercises.
"Inuit games were created was to help people get through the long winters, so that's a way people used to cope, stay mentally well and also to build strength for hunting," she said. 
Eric Foss will also be staying home in the spirit of an organization that's exclusively youth driven. This time around, Gabrielle and Wu will act as videographers.
"Every community has its own history and its own slightly different culture," Gabrielle said. "The benefits of the workshops is that they can be tailored to the needs of individual communities."