A study by a Western University researcher examined how men and women feel their gender affects their experience in the gym, finding stereotyped gender roles affect both.
Stephanie Coen, a post-doctoral associate in geography, authored "It's gym, like g-y-m, not J-i-m" for the first 2018 edition of the Social Science & Medicine journal. Study participants kept a journal of their gym experiences and were interviewed about its contents.
In the interviews, Coen found that participants noticed stereotypes about how each gender should behave in the gym, which she said affected both men and women negatively.
"They didn't want to do something that would contravene the gender norms of the gym because they would feel out of place," she said.
Coen studies health geography, which is concerned with how environments influence health and how people experience health. Coen chose to examine the gym because of its multi-gendered presence and to discover how the genders interplay.
She found that men reportedly took up more space and were significantly louder, as they generally lifted heavy weights. Women said they actively tried to minimize the amount of time they spent and space they took up in the gym, focusing mostly on cardio.
Coen's final survey question asked participants to draw an image in response to, "How do you feel in the gym?"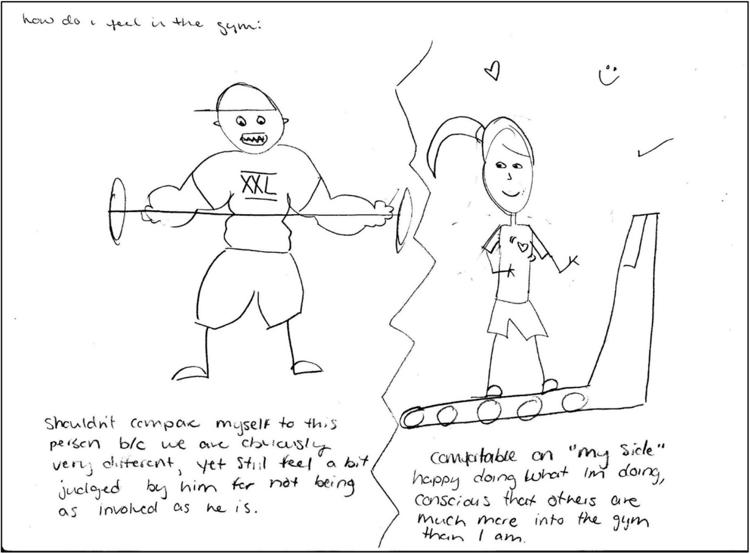 She surveyed 18 men and 34 women in the same Canadian city. The city, like London, had a significant student population. Even though participants' ages ranged from 25 to 64, about 20 per cent of them were students, though mostly graduate students.
She guessed that if she focused on undergraduate students, ages 18 to 22, she would find stereotypes and pressures for certain behaviour specific to that environment.
"The student-gym environment brings a whole host of social pressures, gendered pressures and pressures about our sexualities that can be quite distinct to that particular population," she said.
She added this would possibly be accentuated by students living and socializing within the same insulated area, a campus.
Chloe Cho, a first-year political science student, said her time in the gym is influenced by gender.
"I usually want more peace and quiet, so I go where the girls are," she said. "Girls are quieter. … It's less about encouraging each other and more about personal fitness. While the guys have spotters, and what they do requires more grunting and noise."
The study found that men and women localize to areas that have the equipment for their normal exercises. At the Western Student Recreation Centre, most cardio machines are in a loft above the heavy weightlifting area. Cho said she thinks women are more likely to stay upstairs, whereas men usually stick downstairs.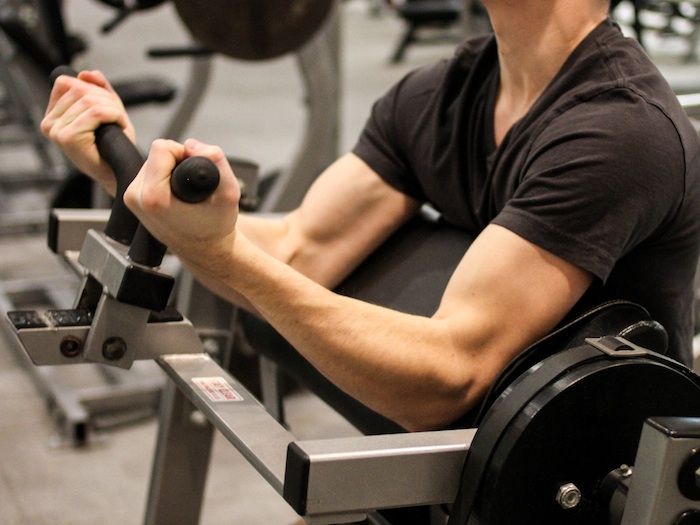 Throughout her interviews, Coen heard anecdotes of men hearing homophobic comments for doing "feminine" exercises, women being told to "do their girly exercises elsewhere" and a woman who went and sat in the locker room until another patron left, after he stared at her sexually.
Yawer Ali, a fifth-year economics student, said there were some gendered norms about exercises at the rec centre, but not as much as many people think.
"When you start going to the gym, you can think 'oh man, everyone's watching me,' and what you learn is that no one really cares," he said.
He said he knows that people call the thigh abductor machine a "girl workout", but that negative pressures to do certain exercises doesn't stretch far beyond that. He did add that if girls are around, guys will often try to lift more weight, and may not ask girls to spot. He agreed that at the Rec Centre women mostly workout upstairs and men downstairs.
Coen has two more papers forthcoming from the same data in the coming months. Overall the media reception has been warm, with people telling Coen that they saw their own gym experiences in her findings.