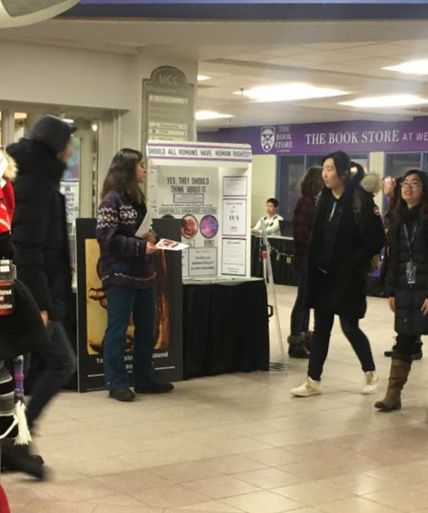 As I am now experiencing my third year on Western University's campus, I have long grown used to seeing anti-choice protesters on, and around, my place of education. This is not a comment on what they stand for; they have as much a right to be there as I do to be against it. I am here to learn, and on many occasions, have engaged in conversations with these groups. 
Regardless of the number of respectful exchanges we have shared, I am grateful for my friends, who are devoted to letting each other know when these activities take place so that we can make more conscious decisions regarding our mental health. Today, however, that opportunity was taken away from us. 
Today, it was in the University Community Centre basement, metres from the Wellness Education Centre, that the anti-choice demonstration was staged. Just in front of the pharmacy were graphic images that many unknowing students wishing to seek mental health services would pass.
I will defend their right to protest, but I will not defend the harm that today's actions could cause. Allowing space for these events is necessary, but it is imperative to consider the potential risks involved in choosing today's location.
There are students on campus who have had abortions, and students whose families have been affected by abortions and abortion laws around the world. Today, those students had nowhere to go if they needed help and support. Today, neither did I.
— Rikki Bergen, third-year linguistics and school for advanced studies in the arts and humanities student