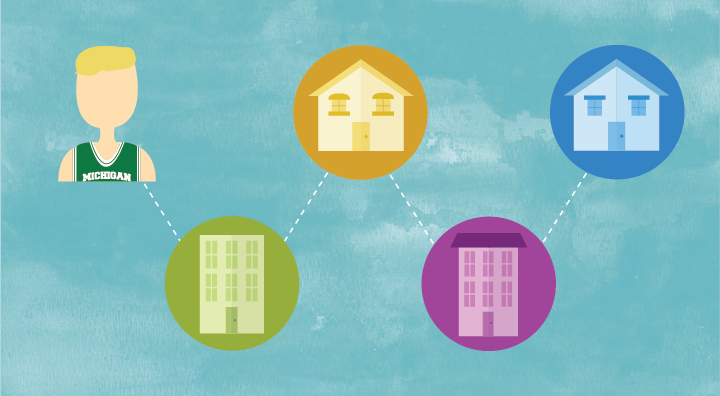 Moving every year isn't easy. But take it from me, there's nothing wrong with drifting from house to house during your university career. It's easier than it's made out to be, and it adds a new element to your undergrad experience.
This nomadic lifestyle could really bother those who crave the familiar and the intimate, but there are plenty of great things about moving every year. Maybe it's easy for me to say this as a person who doesn't decorate and who sleeps on a mattress on the floor, so if you own a lot of things, it might be tough.
For starters, you really learn about London when you live in different locations across the city. I lived on Kipps Lane in first year in an apartment building with my friends. In second year, I lived all the way out in Byron. It was a long bus ride, but I discovered a part of London that most out-of-town Western University students would never experience. In third year, I lived at the corner of Oxford Street and Adelaide Street with my friends who went to Fanshawe College. Now, I'm on Wharncliffe Road, nice and close to campus.
Maybe for a student from Toronto or another major metropolitan area it wouldn't be enticing, but for someone from a smaller city — in my case, Chatham, Ont. — it's enjoyable bouncing around the different areas of the city.
Another positive to moving around in your undergrad is that it helps you break out of your comfort zone and meet new people. After living with my best friends from high school in first year, none of them returned to school for second year. That forced me to find a new place in my second year. Although it was nerve-racking, I ended up making lifelong friendships that year with my new roommates. 
Moving around so much, I would pack up all my things for the summer and seek out houses that offer eight-month leases, which a lot of people don't know are available. It's nice to avoid paying rent for all 12 months when you're back home swimming in your parents' pool and eating home-cooked food for four months.
My university experience has benefited from my ability to live in different locations across London. I know the bus routes really well now, and I've seen so much of the city.
So don't feel pressured to think you need to stay in the same house every year. If your second-year landlord is hard to deal with, that black mould monster in your basement isn't being addressed or you're just not getting along with your roommates, don't be scared to move.