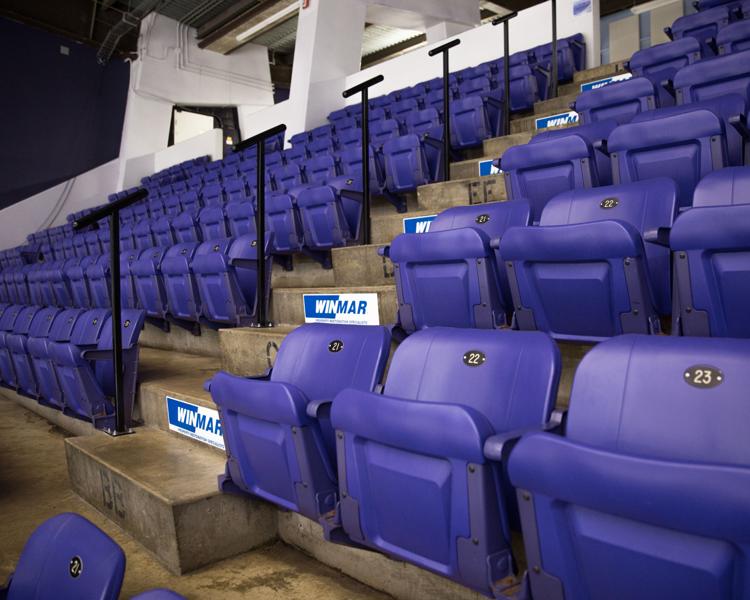 Now that the Canadian university sports seasons are underway, the Gazette sports editors compiled four key improvements and changes for the next era of Mustangs athletics.
Increase fan attendance
There is a general feeling of apathy surrounding varsity sports at Western University. Watch a basketball game at Alumni Hall or a hockey game at Thompson Arena, and you'll see empty seats galore. Contrast the troubling attendance numbers at non-football Mustangs games with basketball games at Ryerson University or hockey games at Brock University: it's clear that there's plenty of room to increase fan participation. 
Maybe a hockey game against Queen's University at Budweiser Gardens, with buses available to transport thousands of students from campus to the downtown arena, could be an interesting way to gain exposure for the program.
The 2016 edition of the Crowchild Classic — a series of U Sports showdowns between the Calgary Dinos and Mount Royal Cougars for university athletics supremacy in Calgary — brought in a remarkable number of fans. When the Dinos and Cougars men's hockey teams met at the Scotiabank Saddledome, just shy of 13,000 fans showed up — setting an attendance record for U Sports (then called Canadian Interuniversity Sports).
Renovate the indoor running track
A number of athletic facilities on campus have seen improvements over the last few years, including renovations to the football field, the installation of a new swimming pool and the addition of two new artificial turfs. However, the indoor running track around Thompson Arena remains dilapidated and in serious need of resurfacing. Having a running track going around a rink, as opposed to being a stand-alone venue, is bad enough.
Western's track and field programs have produced several individual champions at both the OUA and the U Sports level recently, winning 11 medals at last year's national championship. For a school with the size and reputation of Western, a better indoor track will do nothing but improve the overall athletic and training environment on campus.
Improve performance of national-level teams
Some Mustangs varsity teams have been incredibly successful recently — take rowing, squash or lacrosse for example. Something Western athletics can take pride in is the consistency with which less prominent teams win championships. 
Slightly more problematic, though, is the top-level teams that compete at the U Sports level. For a school with one of the premier athletic programs in the country, there aren't a lot of national title banners coming to Western at the moment.
Interim athletic director Jim Weese, who filled in before Stapleton took over, produced an extensive review of the intercollegiate sports program in July. He agreed that the lack of Mustangs national success was an issue as well, pointing out that Western is well behind several competitor schools. 
Securing more sponsorships would help too, since it could help some teams with better training equipment or resources. For teams like basketball, a stronger recruitment program would also make a difference. 
Hire a marketing and sponsorship manager
Weese's report also suggested that a manager of marketing and sponsorship be appointed to oversee fundraising and promotions for Mustangs athletics. Weese suggested that this manager be tasked with raising at least $400,000 per year, which would improve the program's budget. Athletics, under the umbrella of Sport and Recreation Services, operated on about $6.3 million last year, but it would benefit from additional sponsorship. 
We're already well into the fall seasons for many OUA teams, all of which could've benefited from some marketing help. That would be an immediate way to help with the fan attendance issue, and increased fundraising could improve Western's performance at the U Sports level.
Overall, these four key improvements would do a lot to strengthen Mustangs athletics for years to come.