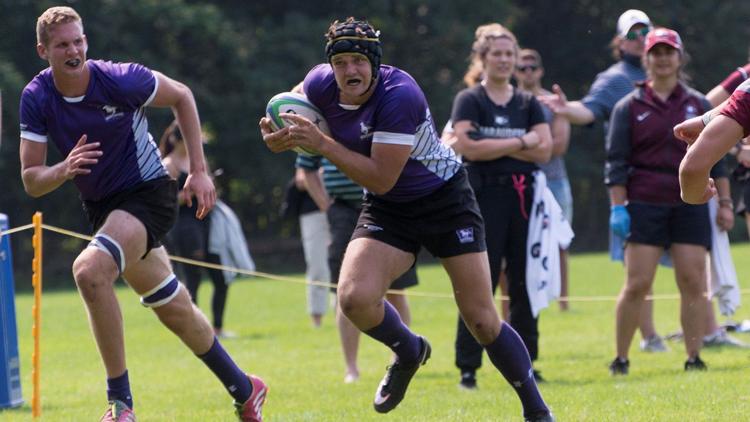 Yet another Mustangs team kicked off their 2017 campaign for victory as the men's rugby team visited the McMaster Marauders on Monday afternoon. McMaster prevailed 19–12, tarnishing Western's hitherto perfect record in season openers this year. 
The home team's scoring came from all over the lineup, with three different players finding the try line and with the fullback Callum Macleay hitting the target on two of three conversion attempts. 
The Mustangs improved on the scoreline from their last contest with McMaster, having lost 25–7 to them in last year's Ontario University Athletics bronze medal game. This time around, Western kept it close the whole way through, putting pressure on the Marauders' defence until the 80th minute.
Western managed to keep their opponents at bay for the first 20 minutes of the game before David Kavtiashvili broke the ice for McMaster. The home team never looked back from there; they stayed in front the rest of the game after forwards Mike Smith and Brett Sullivan added tries in the second half. 
Finding gaps in the Marauder defence was a problem for Western in the bronze medal game last season when they failed to break the line until Glen Thomson-Bullock put his team on the scoresheet in the dying minutes of the match.
Eight-man Michael Coldwells contributed the bulk of Western's points by scoring a pair of tries for the visitors. His work just before halftime nearly levelled the score at 7–5 for McMaster at the break. His second score late in the game brought the Mustangs within a single converted try of the Marauders. 
This starting-block stumble leaves Western a step behind their major OUA rivals, with heavyweights Guelph and Queen's both shutting out their opponents over the weekend. The Mustangs finished third in the regular season standings last season, edging out McMaster by a single point. 
Despite Western's defeat, the early OUA standings aren't too bleak for them. Losing by just seven points, the Mustangs lead against all five losing teams in points differential. 
With just five days of rest to shake off the Labour Day defeat, Western will host the University of Toronto this Saturday in their home opener at 3 p.m. on Alumni Field. They'll be looking for a repeat of their 2016 performance against the Varsity Blues, when the Mustangs won 28–9.