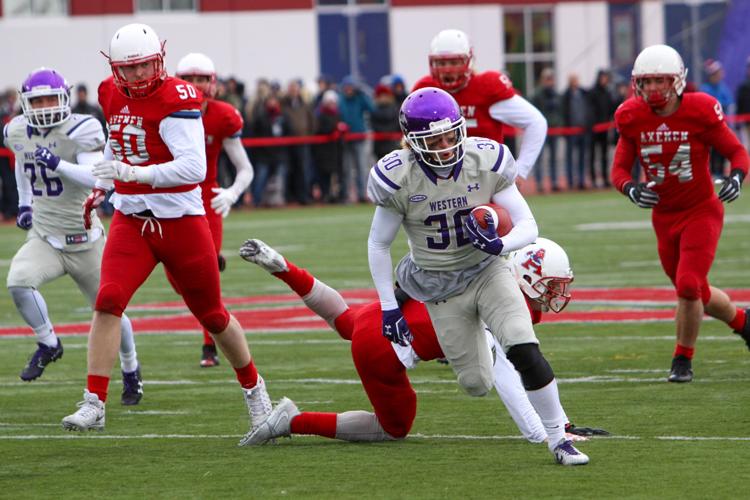 After what transpired on Saturday at the Uteck Bowl in Wolfville, Nova Scotia, the question is worth asking. 
Is the 2017 edition of Western Mustangs football one of the greatest teams in Canadian university football history?
Their 81–3 win over the Acadia Axemen raises the question. No team had ever scored more than 60 points in a U Sports semifinal game before. The Mustangs scored on their first eight possessions of the game.
Their performance was so thoroughly dominating (or demoralizing if you were a fan of the Axemen) that calls rang out across social media for U Sports to change their scheduling format to avoid another embarrassment for the league in the future.
Grew up in Nova Scotia, fell in love with AUAA football as a kid, have been a passionate supporter of university football since. This national playoff format is broken and needs a fix. Today's bowl game fiasco is humiliating for so many involved. A black mark for everyone.

— Arash Madani (@ArashMadani) November 18, 2017
This Mustangs team is so good, on both sides of the ball, that they're challenging the way Canadian university football is structured. They haven't had a competitive game since Labour Day when the Guelph Gryphons took them to overtime.
Uteck Bowl
The Mustangs travelled to Wolfville, Nova Scotia to take on the Acadia Axemen in a U Sports semifinal game.
There were too many standout Mustangs performances on Saturday to count. Running back Cedric Joseph racked up 100 yards and three touchdowns. He now has 10 touchdowns in three playoff games.
Fellow running back Trey Humes had his official coming-out party in the purple and white, running for 172 yards and a touchdown. Third-stringer Yannick Harou added 98 yards and two touchdowns.
Quarterback Chris Merchant had a near-perfect afternoon, throwing for 200 yards on 10-of-11 passing and two touchdowns. He also rushed six times for 54 yards and two touchdowns and was named the Uteck Bowl's Most Valuable Player. Merchant's top target, Harry McMaster, led all receivers with 135 yards, including a 73-yard touchdown catch.
Defensively, the Mustangs had another stifling performance, giving up only 214 yards of total offence, 33 of which came on the ground.
Fraser Sopik had eight tackles on the day, including two for losses. Bleska Kambamba had two interceptions and Mackenzie Ferguson had another that he returned 30 yards for a major.
With the win, the Mustangs sent a message to the country. The lazy opinion is that the Laval Rouge et Or, who won the Mitchell Bowl and will meet the Mustangs in the Vanier Cup, will be the favourites to win the national title.
The Rouge et Or, of course, are the defending Vanier Cup champs and have won nine national titles since the Mustangs' last Vanier Cup win in 1994.
But the Mustangs are their equal. This won't be a David versus Goliath scenario as the two teams meet at Hamilton's Tim Horton's Field on Saturday. This will be a battle of Goliath versus Goliath.
It will be a meeting of what are potentially the two greatest football programs in the history of Canadian university football. The Mustangs and the Rouge et Or have won a combined 15 national championships. Both programs have deep pockets, exceptional recruiting pipelines and the best coaching staffs in the country.
Laval wasn't undefeated during the regular season. They've faced adversary in the form of a 21–16 loss to the Montreal Carabins on Sept. 9. Western hasn't faced such adversary this season. They're currently 11–0 on the year, but a 21-year national title drought should be enough bulletin board material for Mustangs head coach Greg Marshall and his staff.
This Mustangs team can end that drought with one of its toughest and most talented teams in program history. There's no better time to do so than Saturday in Hamilton.