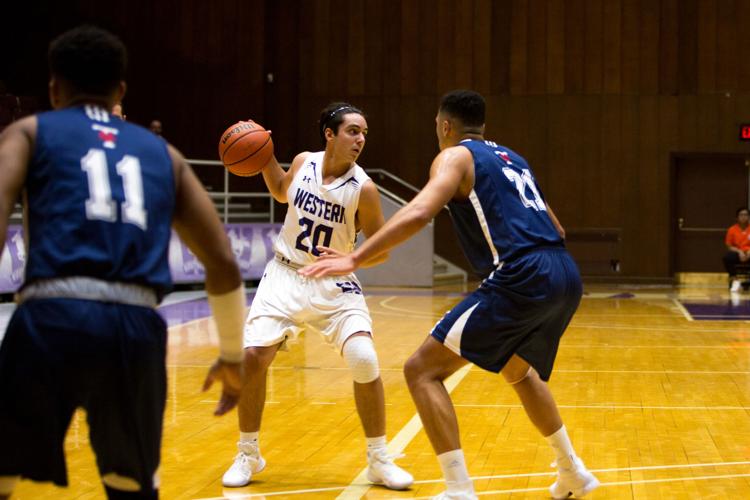 The Western Mustangs men's basketball team has been a Jekyll and Hyde outfit through the first four games of their 2017–18 season.
On one hand, they're an inconsistent team, big on talent and short on execution. With an 83–58 loss to the Brock Badgers and a listless 66–53 loss to a mediocre Toronto Varsity Blues team, the Mustangs clearly have work to do if they want to be a playoff team. However, a 62–59 win over the Ryerson Rams on Saturday showed what this team is capable of when they play to their potential.
The Rams have been ravaged by injuries for the first few weeks of the season, but they're still the third-ranked team in the nation and one of the top contenders in Ontario University Athletics. 
That's why this Mustangs team doesn't make much sense. Their performance in the first half against the University of Toronto was abysmal, allowing the Varsity Blues to take a 45–24 lead. 
"In the first half, we made a lot of defensive errors," said Mustangs head coach Brad Campbell. "The second half was better defensively, but our offence throughout the game struggled to make shots. We weren't very active on the glass and weren't able to draw many fouls either."
What the Mustangs were missing on Friday was a go-to scorer and a defensive effort that could grind out a win. This team needs one or the other. If there's no one that can get buckets at critical moments when the game is on the line, then this team needs to buy in defensively to win low-scoring affairs.
That's what happened on Saturday night. It was an ugly win over Ryerson University, but a win against a top-three nonetheless. 
Nobody in purple and white scored more than 10 points against the Rams. Henry Tan had 10, while Eriq Jenkins, Nikola Farkic and Omar Shiddo scored nine points apiece.
While the Mustangs weren't outstanding from the field in their win over Ryerson, shooting 35 per cent while the Rams hit 44 per cent of their shots from the field, they saw a vast improvement from their horrid offensive display against Toronto where they shot 29 per cent from the field.
The Mustangs scored when they needed to and played solid defence when their shots weren't dropping. Head coach Brad Campbell and his staff will be using this Ryerson win as a template for any future success.
"We thought we played poorly, particularly offensively, last night, and to bounce back to get an ugly win is great," said Campbell after the Ryerson win. "Hopefully we can build on that, confidence-wise, for our guys. To keep scrapping, staying in the game and giving ourselves a chance to win, we were able to do that tonight." 
For a young program that went through growing pains en route to a 7–13 record last season, the Mustangs need to be scrappy to win. They have the skillset and athleticism to compete with the best teams in the OUA, but they also have a tendency to play out-of-control, which poses serious problems considering Campbell's offensive system stresses pace and ball movement.
Right now, this team is 2–2. While the season is still young, and there is more basketball to be played, a team with a .500 record will make the OUA playoffs. That's a realistic goal for the Mustangs men's basketball team.
They'll need scrappiness, defensive intensity and a few lucky bounces to get there.