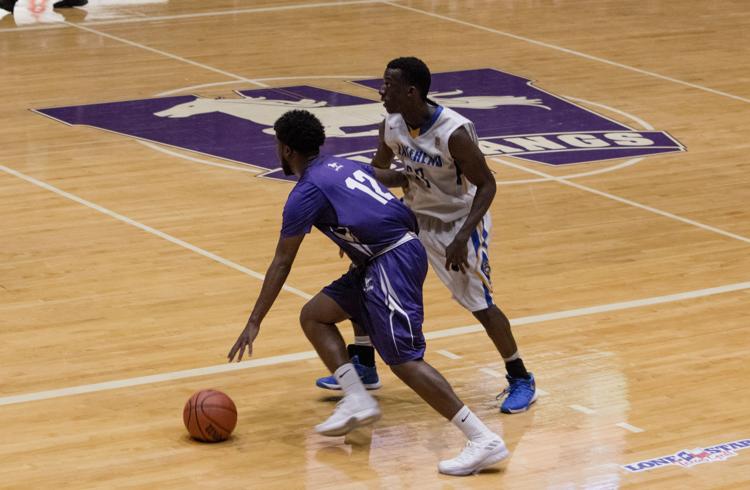 If there was one way to describe the Western Mustangs men's basketball team's weekend sweep of the Lakehead Thunderwolves, it would be cathartic.
Last season's 7–13 record now seems a far cry from this team that tied and then surpassed it's win total from last year over the weekend. At 8–6 the Mustangs are second place in the Ontario University Athletics West Division. If the team's collective psyche was tarnished through the toil of the losses of 2016–17, the wins of 2017–18 should be providing sufficient relief.
Last season's rebuilding team, marked by youth and inexperience, grew up this year. On Friday and Saturday, against the worst team in the province, the Mustangs did what they had to do.
On Friday night, the Mustangs used a 26-point second quarter to propel themselves to an 84–75 win over the now 1–13 Thunderwolves. Marko Kovac led all scorers with 26 points, while Omar Shiddo added 19 points, Eriq Jenkins added 14 points and Henry Tan had 13 points.
Despite a slow start by the Mustangs in the first quarter that saw the Thunderwolves take a 25–19 lead, the Mustangs offence started clicking in the second frame, allowing them to take the lead and never look back.
"We usually come out a little bit flat, a little bit lifeless at times," said Mustangs head coach Brad Campbell. "We need to be better defensively, we had a couple of stretches there in the first and fourth quarter where we fell apart."
However, despite his comments Campbell's team again came out flat on Saturday, as the Thunderwolves came out firing to take an early 11–4 lead.
But, just as they did the night before, the Mustangs took control once they began pressuring the Lakehead ball handlers and executing their offensive system. Kovac continued his explosive weekend with a 20 point performance, while Shiddo and Tan added 19 and 15 apiece.
Despite their early struggles in both games, the Mustangs buckled down and took care of business. In January, with the postseason looming, wins over bad teams at home are crucial. The Mustangs needed to sweep the weekend and they did just that.
"We just knew what we had to do this weekend, we had to go 2-0, and now our mentality going into these next two home games is to get those two wins," said Mustangs senior guard Jedson Tavernier. "We know we're capable of winning all these up coming games, and we're just trying to keep the streak going."
The Mustangs are starting to play like their record would indicate. And with those next two games that Tavernier mentioned coming up on the schedule, against the 3–11 Guelph Gryphons and the 2–12 McMaster Marauders, the Mustangs have a perfect opportunity to continue to pile up the wins.
"I think just our persistence in this game was really good," said Tavernier. "We fought back, and especially in the end we were saying 'We're not losing, we're not losing', and everyone came together to come out with the win."
That refusal to lose is what separates this year's team from last year's. It's the same group of players, essentially, albeit with the crucial additions of Tan and Kovac. But what this team lacked in execution and intensity last year, they've made up for this season.
Looking at remaining games on the Mustangs schedule, they could conceivably finish the season with a 17–7 record. More realistically, a 15–9 finish should be attainable. Either way, this team has performed better than anyone could have envisioned.