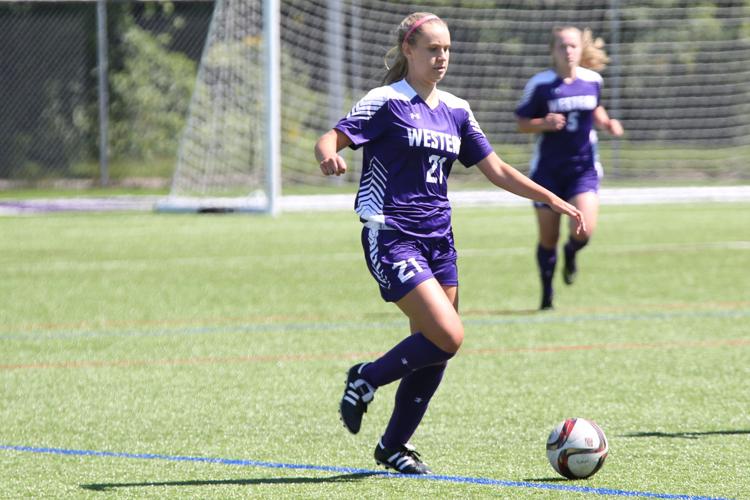 After a perfect weekend for both Mustangs men's and women's soccer teams, each emerged with 1–0 wins over Brock, and the Mustangs' attention has turned to their midweek road trip. The men's and women's squads will travel down the 401 on Wednesday to play the Windsor Lancers in both teams' first away game of the season. 
Both teams are four games into the 2017 OUA campaign. The women, having won three and lost one, sit third in the West Division on nine points. The men are undefeated so far, with three wins and one draw against Guelph, but they're fourth in the division since they've played fewer games than most teams.
Women's soccer
The Lancers will be a tough opponent for the women, currently atop the division with 12 points (although they've played six games). They were a solid opponent last year, with both regular season games between Western and Windsor ending in 0–0 ties. 
The women met Windsor a third time last year, hosting them in the OUA bronze medal game. The home team came out on top, with a 2–1 win for Western, securing them third-place honours for 2016. 
In order to beat the Lancers, the Mustangs will need to get their attack going a little more. They've scored just three times this season, putting them 16th in the league with 0.75 goals per game. Meanwhile, Windsor is sixth in the OUA with an average of 2 goals per game.
On the other hand, the Western women are the strongest defensive team in the OUA right now, having conceded just one goal in this young season. The Mustangs will need another solid effort at the back end to keep their opponents out on Wednesday because they're unlikely to score more than a couple goals.
Men's soccer
Windsor won't be a pushover on the men's side either. They finished sixth in the West Division last season, and they currently have a 2–3–1 record. In 2016, both the Mustangs and Lancers won once against each other. 
Just like the women's team, the Western men have also been a little snakebitten in front of goal recently. On Sunday against Brock, they had plenty of chances, but they only put one past the goalkeeper. 
Striker Reza Nafar will be one of the Mustangs' key offensive threats in this game; he leads the team with three goals this season. At the other end of the field, defenders James O'Callaghan and Chuka Ononye will probably be vital to the cause as they try to shut down Windsor's attack.
After their important doubleheader against the Lancers on Wednesday, both Mustangs teams will be home again on Saturday, Sept. 16 to take on Waterloo.