"Who is this person? Get out of my way."
It's a reaction most of us might have when someone interferes with our workout.
Senior swimmer Jenn McNaughton was getting impatient when someone was swimming beneath her during practice. As she got out of the water, she noticed the intruder approaching her. 
"Oh. My. God." She realized it was the athlete who holds an all-time record for Olympic gold medals: Michael Phelps.
McNaughton couldn't believe that he said she had a better swimming stroke than he did. It's a compliment she'll never forget.
The fourth-year BMOS student was competing at a meet in Seattle when she received the extra boost of encouragement. A few months prior to her chance encounter, McNaughton added a fifth-place finish at the 2015 Pan Am Trials to her list of accomplishments.
Prior to swimming, McNaughton was en route to becoming a track athlete. However, everything changed a decade ago after a skiing incident. The harsh hip injury forced her to miss out on impact sports and she chose swimming instead.
She was always competitive so she progressed quickly, but it was not an easy road due to her late start in the sport.
"I had a really hard time getting up and racing without getting super cold and tense," she says. "I would be so nervous that I couldn't even put food in my mouth. I just wanted to prove that I could do something good with my swimming career."
Now, several years later, her swimming career continues alongside her academics at Western where she is viewed as a role model on the team.
The swimmers commit to a full-year program that teaches them dedication and perseverance. They endure intense training from September to January, and continue onto their competition block from January until February. Collective training ends in April when many athletes independently choose to go on to nationals and personal endeavours.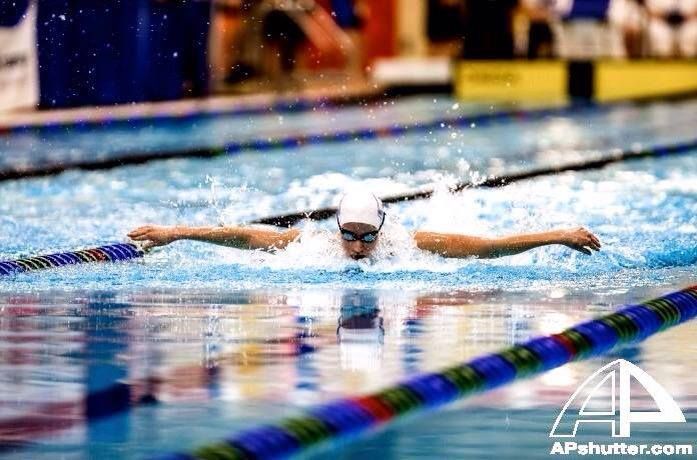 Western will be home to the Ontario University Athletics championships in early February.
McNaughton says head coach Paul Midgley — who has coached at Western for 13 years — has never been this excited to train the co-ed group. The relationship between the coaches and athletes is present on deck through constant laughter and cheer. McNaughton also believes a mixed environment works to strengthen the team.
"With a girls team only, I think it would be a lot different," she says. "I am a distance swimmer and there aren't that many girls who do the events that I do ... so I train with the boys a lot.... They're a lot faster and sometimes I'm keeping up with them, so that pushes me more."
As a distance swimmer, McNaughton needs to train her body to endure demanding techniques for longer periods of time. She specializes in the butterfly stroke, which is swum on the breast, faced downwards, while the arms move simultaneously in the same direction. Daily exercises are required to get the necessary strength to master the stroke. With more practices than there are days of the week, McNaughton set up a strict schedule to keep.
She wakes up at 6:30 a.m. almost daily for her 7:15 practice, which ends two hours later. She then quickly rushes to catch her 9:30 a.m. class, where she can be seen scarfing down her breakfast — and later, lunch — before running out to her second workout of the afternoon. Her schedule changes up throughout the week between swimming practice, gym workouts and yoga classes.
However, her body isn't just carved by the gym, but also by the high-calorie, high-carb diet that fuels her workouts.
"For training camp, my breakfast was three fried eggs with cheese on top, a bagel with cream cheese, three pieces of fried turkey and some hash browns ... [and] some Greek yogurt with granola and a banana. I was not even fazed," she says.
On regular days she sticks to three packets of oatmeal with nuts and frozen fruit for breakfast. During the day, she snacks on numerous energy bars before she enjoys the Spoke's famous bagels. It's not long until she's grabbing a large bowl of her favourite pasta topped with a grilled protein of her choice. But, just like most of us, McNaughton has her days where she finds herself grabbing a Junior Chicken from McDonald's.
Even with her intense workouts and demanding diet, McNaughton says many don't appreciate or understand her lifestyle.
"People always ask me ... 'what do you do for two hours?' " she says. "They just think we swim back and forth, but every single day we are working on something different."
Although swimming is sometimes underappreciated, to her it doesn't matter when the athlete lives through the struggle and earns the wins.
The swimmer from small town Ancaster, Ont., wants to go out on a high note at this year's Ontario championships. She would like to achieve her best career times in her final year, but it's not only about the numbers. McNaughton credits swimming for the hardworking, determined, driven person she has become.
In the fall she will be working for a software company, which is much different from swimming, but she won't ever let go of the sport that's deeply ingrained in her lifestyle.