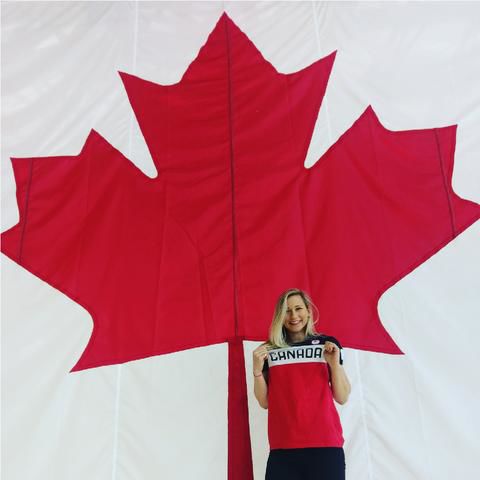 The financial burdens associated with high-level sports is crippling to many of Canada's Olympic hopefuls. So much training and preparation is required that some athletes struggle to find the funds to help keep themselves afloat.
Take, for example, Western University grad Kristen Bujnowski: she graduated in 2015 with a degree in both mechanical engineering and kinesiology. After a career as both a track runner and rower at Western, Bujnowski decided to try bobsledding for the first time mid-2017.
Suddenly, Bujnowski has competed for Canada in eight Bobsleigh World Cup events and was recently named an alternate member of the Canadian national bobsleigh team, slated to compete in the Pyeongchang Olympics this month. She's now trying to balance high-level training with a job as an engineer, which is no mean feat.
"A lot of athletes have to stop doing competitive sport because they can't afford it," says Bujnowski. "After the Olympics, I'm hoping to move to Calgary to train, and finances are going to be a huge barrier down the road."
Plenty of athletes struggle to make a living in between the 35 to 40 hours of training they need per week. That's why, according to a group of Western master's of business administration students, 70 per cent of elite Canadian athletes live below the poverty line.
Those MBA students — Matt Boswick, Tanya Moryoussef and Karly Campbell — are trying to do something about that. They say that their startup clothing company, North Strong Collective, is the first purely Canadian athletic brand dedicated to easing the financial burden on homegrown athletes.
North Strong donates 25 per cent of the revenue generated from their sports apparel to the Canadian athletes that have partnered with them, in order to ease the financial burden on these athletes a bit. In exchange, the athletes promote North Strong on their social media. 
Boswick says their company's originality rests in their authentic ties to Canadian athletes.
"There's not really a great company out there providing athletic apparel that's Canadian," he says.
"A lot of American companies will slap a maple leaf on something, but it's not really patriotic apparel that gives back to Canada in a way that we'd like to."
North Strong is a product of the Western Accelerator program, which allows MBA students to receive course credits for building a real startup. Currently, the company has eight Canadian athletes listed as partners on its website, two of which (including Bujnowski) will be in Pyeongchang.
Moryoussef asserts that there's no similar resource for Olympic hopefuls.
The Canadian government has the Own the Podium program, which provides a small amount of funding to athletes. Then there are big-name athletic brands, which will sponsor the highest-profile Olympians. Beyond that, many athletes rely on their own fundraising or loans from friends and family. 
A lot of athletes will go to university in the United States because American schools can offer full-ride athletic scholarships. So, plenty of elite potential competitors slip through the cracks in Canada.
"There's going to be a lot of hype around the Olympics," says Boswick. "I think it's really important for us to highlight that while you're seeing all these athletes at the top of their game, when they go home they have a lot of bills to pay too."
The three students working on North Strong plan to grow their business by finding more athletes to partner with as well as by working with independent gyms around Ontario. So far, they've had plenty of conversations with athletes both amateur and professional, including some players in the Canadian Football League (who typically make more than $50,000 in salary).
"Having this opportunity isn't something to waste," says Bujnowski. "I hope to do bobsleigh for another four years, and I hope finances don't stop me."
If North Strong has anything to say about it, they won't.