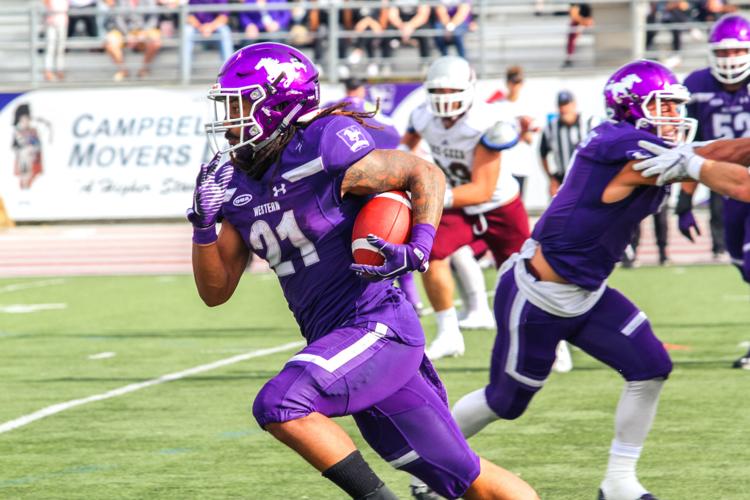 It's all there for you Western Mustangs.
Your running game, led by two capable rushers, Alex Taylor and Cedric Joseph, dominating defences. Your offensive line, winning the push play after play. Your defence, forcing turnovers to offset the ever-so-rare mistake.
Your kicker, Marc Liegghio, never missing. Your quarterback, Chris Merchant, consistantly reliable. Your coaching staff, one of the best in the league. Your perfect season, a reality after clobbering the Ottawa Gee-Gees 63–10 to improve to 8–0.
Your team, poised for the championships in November. Two more big wins, and a Yates Cup title will be yours.
The Mustangs have all the momentum they need heading into the Ontario University Athletics playoffs. They took on all challengers this year, from contenders like the McMaster Marauders and Laurier Golden Hawks to basement-dwellers like the Windsor Lancers and York Lions.
But while Saturday's win over Ottawa, in front of a Homecoming crowd of over 5,200 fans, was impressive on paper, the Mustangs know there's still work to do before their coronation as champions of Ontario.
According to Mustangs head coach Greg Marshall, the win over Ottawa wasn't perfect.
"I thought it was a little sloppy, but I thought overall we played very well," said Marshall. "We settled into it, I don't know if it was just not having played in two weeks, but the first couple minutes we were not as crisp defensively and certainly not offensively but we settled into a very good game."
You see, the Mustangs have a different standard of excellence than most other programs. To find imperfections in a 63–10 dismantling of a team that is 5–3, is what sets this team apart.
The Mustangs wanted to see improvement in the Ottawa game. They did that. They wanted to finish off a perfect regular season. They did that too.
They also wanted to stay healthy. But that was a bit more of an issue.
Merchant, who threw for 168 yards and three touchdowns on Saturday, hurt his non-throwing wrist. Backup Stevenson Bone broke his arm coming in to relieve Merchant, effectively ending the fifth-year's season.
Merchant came back in, appearing healthy. Eventually, the Mustangs took him out for the day, giving an opportunity to third-string quarterback Kevin John, who performed admirably in his own right, going 6-for-7 with 78 passing yards and a rushing touchdown.
But while John could very well be a reliable starting quarterback in the future, the Mustangs need Merchant to stay healthy in the present. His connection with receiver Harry McMaster in particular is of considerable value to the Mustangs offence. Those two have been a dominant duo all season long and connected three times in the Ottawa game for touchdowns. They'll need to continue that in the playoffs.
"I think we knew that a lot of the stuff we had would work, and we were just going stick to the basics and just take it to them," said McMaster on the Mustangs commanding performance on Saturday. "I think we are always confident, and we know we are going to have success."
As a football coach, Marshall will always keep expectations tempered. The Mustangs consistently dominate OUA regular seasons, but their post-season performances of late have left much to be desired.
But this year's team feels different. It's been so dominant on both sides of the ball that it's hard to see any team in Ontario giving them a legitimate challenge.
With the regular season now over, the OUA quarter-final matchups are now set. The third seeded McMaster Marauders (6–2) will meet the sixth seeded Queen's Gaels (4–4), while the fourth place Gee-Gees will face off with the fifth place Guelph Gryphons (5–3).
The Mustangs and second place Laurier Golden Hawks (6–2) both get a bye to the OUA semifinals.
Since the OUA reseeds in the playoffs, the Mustangs could play the Gaels, Gee-Gees or Gryphons in the playoffs. The Mustangs beat the Queen's Gaels 48–10 in Kingston on Sept. 23, while the Gryphons gave them all they could handle in a 41–34 overtime thriller.
The quarterfinal games kick off on Oct. 28, while the semifinals will be played on Nov. 4.