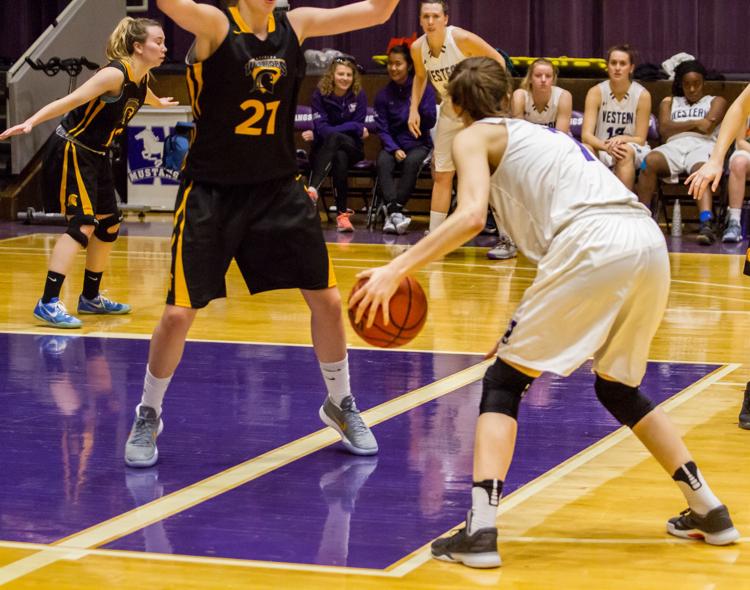 The Western Mustangs women's basketball team coasted to a 74–44 victory over the Waterloo Warriors, marking their third win in a row and improving their record to 11–8.
Third-year forward, Julia Curran, stepped into the spotlight on the Mustangs team, becoming a reliable scorer and rebounder over the course of the season. She provided the bulk of the scoring in the first half of Wednesday night's game with 12 points in the game's opening 20 minutes, helping the Mustangs edge out Waterloo 30–22 at the half.
Waterloo proved no match for all the scoring options the Mustangs threw at them in the second half. Five Mustangs players scored in double figures to end the game; Curran led the way against her hometown team with 16 points and seven rebounds.
"Everyone was really confident with the ball," said Curran. "We had key performances from some rookies and at least four players in double digits, I think, so it was really a team win."
Consistency has been key for the Mustangs during their recent climb up the Ontario University Athletics West Division standings. That consistency allowed the Mustangs to take early control of the game and not let off the gas.
"I thought we were consistent in our effort," said Mustangs head coach, Brian Cheng. "They were competitive.… We just kept the pressure on."
The Mustangs also showcased their team defence, forcing 19 turnovers and fueling extra possessions, allowing them to tack on 23 extra points.
"We guarded very well," said Cheng. "Coverages, and the execution of our game-plan, there's a lot of focus and a lot of team effort involved in that." 
With this three-game winning streak, the Mustangs were able to inch out the Laurier Golden Hawks for the fourth position in the OUA West, and they're gaining on the Lakehead Thunderwolves for the third position, trailing by only two points.
On Saturday, the Mustangs will head to Windsor to take on the Lancers, who currently sit second in the OUA West. This will kick off a challenging road trip in which the Mustangs will also face the Laurier Golden Hawks, who are currently 10–9 and the 14–4 McMaster Marauders. The Mustangs have some stiff competition on the docket and will have to fight for a top spot in the OUA West as the playoffs near.